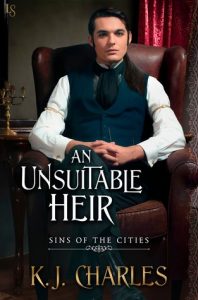 I received a copy of a copy of K.J. Charles' An Unsuitable Heir through Netgalley. I reviewed the first books, An Unseen Attraction and An Unnatural Vice earlier this year.
Description from Goodreads:
On the trail of an aristocrat's secret son, enquiry agent Mark Braglewicz finds his quarry in a music hall, performing as a trapeze artist with his twin sister. Graceful, beautiful, elusive, and strong, Pen Starling is like nobody Mark's ever met—and everything he's ever wanted. But the long-haired acrobat has an earldom and a fortune to claim.
Pen doesn't want to live as any sort of man, least of all a nobleman. The thought of being wealthy, titled, and always in the public eye is horrifying. He likes his life now—his days on the trapeze, his nights with Mark. And he won't be pushed into taking a title that would destroy his soul.
But there's a killer stalking London's foggy streets, and more lives than just Pen's are at risk. Mark decides he must force the reluctant heir from music hall to manor house, to save Pen's neck. Betrayed by the one man he thought he could trust, Pen never wants to see his lover again. But when the killer comes after him, Pen must find a way to forgive—or he might not live long enough for Mark to make amends.
Review:
So, Pen is non-binary/gender fluid and Mark is pansexual, in a time when such language didn't exist. I imagine this last fact made the story a difficult one to write, because I found the lengths to which the characters had to go to describe themselves without the words sometimes didactic and difficult to read. But honestly I really quite enjoyed this conclusion to the series (a series that happily contains more representation of varied identities, bodies types and abilities than the collection of several other authors put together).
I enjoyed it, but it was my least favorite of the three. I don't mean to be dismissive of Pen's situation, because it was horrible, but I got tired of his panics. Further, I felt he was frequently stressing over being unable to express his more feminine aspects, with the understanding that he's sometimes perfectly happy being perceived as male. But I don't once remember him being satisfied in his more observably male appearance. It felt ill-balanced. And obviously I understand that one of those would have been considered normal and not noteworthy, while the other stress-inducing because it would have been considered deviant. But throughout the whole book he never seemed to have a good body day, which readers were meant to understand he did have sometimes and I'd have liked to see.
I cannot express how much I loved the way Pen and his sister refused to be bullied or bow to the aristocracy, however. Loved it. Further, I think we all deserve a Mark in our lives, someone 100% accepting and willing to have the awkward conversations that eventually make us more comfortable. I adored him. We got brief cameos of all the other characters in the series, which I liked. But the first half of the book is almost entirely recap of the first books or seeing scenes we've already witnessed from the point of view of new characters. I found this a tad tedious, but the last half was all new and exciting.
I did see the side pairing and eventual solution to who should become Earl coming very early on, but I didn't figure out the larger mystery of the murdering mastermind. So, I was held in suspense until the very end and liked it. I found it really quite satisfying in the end.
All in all, I ended the book and this series happy and, as always, look forward to more of Charles' writing.