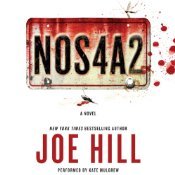 I borrowed an audio copy of Joe Hill's NOS4A2 through the local library.
Description from Goodreads:
Victoria McQueen has a secret gift for finding things: a misplaced bracelet, a missing photograph, answers to unanswerable questions. On her Raleigh Tuff Burner bike, she makes her way to a rickety covered bridge that, within moments, takes her wherever she needs to go, whether it's across Massachusetts or across the country.
Charles Talent Manx has a way with children. He likes to take them for rides in his 1938 Rolls-Royce Wraith with the NOS4A2 vanity plate. With his old car, he can slip right out of the everyday world, and onto the hidden roads that transport them to an astonishing – and terrifying – playground of amusements he calls "Christmasland."
Then, one day, Vic goes looking for trouble—and finds Manx. That was a lifetime ago. Now Vic, the only kid to ever escape Manx's unmitigated evil, is all grown up and desperate to forget. But Charlie Manx never stopped thinking about Victoria McQueen. He's on the road again and he's picked up a new passenger: Vic's own son. 
Review:
I'm surprised that I don't have more to say on this one. But, having finished it, I'm just kind of like, "OK, I'm done." I have no strong feelings either direction. I didn't hate it and I didn't love it. I was disappointed in the lack of what I would consider a happy ending, though it did mostly wrap up. And I 100% appreciated having a positively represented fat man who was lovable and loved. Lou was absolutely my favorite character. (Though the fact that he lost all his weight in the end compromised the fat representation a little bit. Not completely though. He was fat the whole time he was heroic and wonderful.)
This was my first Joe Hill book and I didn't remember that he's Stephen's King son when I picked the book up. I thought his writing very like his fathers and was a little surprised to find him referencing some of Kings work in the book. It was odd.
The narrator (Kate Mulgrew) did a great job with the exception of the times she stopped for dramatic pauses before finishing sentences. "He walked into the……kitchen." That seriously got on my nerves. All in all, it was pretty good but didn't blow my socks off.