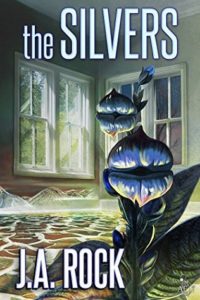 I received a copy of The Silvers, by J. A. Rock, from Netgalley.
Description from Goodreads:
What humans want from the Silver Planet is water. What they find is a race of humanoids who are sentient, but as emotionless and serene as the plants and placid lakes they tend. 
B, captain of the mission, doesn't believe that the "Silvers" are intelligent, and lets his crew experiment on them. But then he bonds with Imms, who seems different from the others—interested in learning, intrigued by human feelings. And B realizes that capturing, studying, and killing this planet's natives has done incalculable damage. 
When a fire aboard B's ship kills most of the crew and endangers Imms, B decides to take him back to Earth. But the simplicity of the Silver Planet doesn't follow them. Imms learns the full spectrum of human emotions, including a love B is frightened to return, and a mistrust of the bureaucracy that wants to treat Imms like a test subject, even if they have to eliminate B to do it. 
Review:
Before I say anything else I want to rave about how beautiful the writing in this book is. It's worth reading for that alone. So, go read the book. For real, go read it. Go luxuriate in the magnificent prose.
The themes here are not new to science fiction—what it means to be human, to love, to be loved, to be weak or strong or broken or flawed, to protect someone or allow yourself to be protected, the place of humans in the universe and our roles and responsibilities toward others we encounter. They're not new, but they are well done. You could easily relate to the characters positions and the growth they experienced.
What I had more trouble with was Imms' and B's relationship. As much as I loved the writing style here and the stark, honest look into the characters it provided, I don't think it provided enough evidence of the good parts of their time together. I kept wondering why they loved so hard if they made each-other so miserable.
Lastly, I struggled with a persistent sense that despite all the ways humanity was showing itself to be destructive and cruel, it was still presented as preferable to being a silver. Imms always thought humans more attractive, smarter, more worthy of appreciation than his silver brethren. By becoming human he was becoming more, not just different, and I thought it had an uncomfortable whiff of ethnocentrism to it. But I also felt that was not where Rock was trying to go with the story.
All in all, I truly enjoyed it.