I accepted a review copy of We Ride Titans, by Tres Dean (author), Dee Cunniffe (colorist), Sebastián Píriz (Illustrator), Jim Campbell, Adrian F. Wassel (Editor). The book was also featured over on Sadie's Spotlight. So, you can hop over there for a sample page, author and illustrator info, the tour schedule, and a chance to win a copy of the graphic novel for yourself.
Pacific Rim meets Shameless in this sci-fi kaiju action adventure, female helmed thrill ride where one woman must keep the monsters in check – as well as her explosive family!
It's Mechs vs. Kaiju in this hard-hitting, action sci-fi adventure!
Kaiju hit hard. Family hits harder.
Just when you break free … you get pulled back in.
Trying to keep your family from imploding is a tall order. Titan-rider Kit Hobbs is about to find out it's an even taller order when that family has been piloting the Titan that protects New Hyperion from the monstrous kaiju for generations. With an addicted, spiraling brother, a powder keg of a father, and a whole bunch of twenty-story monsters, she's got her work cut out for her.

I enjoyed the heck out of this. I liked the art and use of color. I appreciated the sibling affection and inter-generational discord. There is a little bit of background romance, and I liked that it wasn't sullied by needless cheating to give the story artificial grit. There's diversity and appropriate use of mental health services to address the result of generational trauma.
I did think that the introduction of the villain was abrupt, and I could have done with a little more backstory. The mother's role was never defined in any significant way, and the kaiju just exist; we're not told anything about them. All of this could have been improved with a little more length and time to unfurl. All in all, however, I'll call this one a winner. If you're at all into the mecha genre, check this out.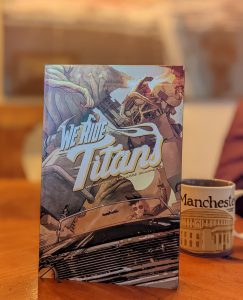 ---
Other reviews:
The Real World According to Sam: Blog tour review, We Ride Titans
You Are The Wall – Character Outshines Spectacle in Vault Comics' We Ride Titans