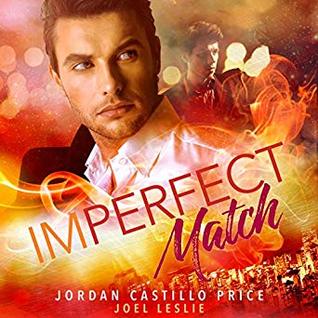 I received an Audible credit for a copy of Jordan Castillo Price's Imperfect Match.
Description from Goodreads:
Lee Kennedy's destiny is controlled by the Algorithm. It's the reason he's still in college, regardless of his good academic performance. He's switched his major repeatedly and stalled on his Master's thesis, but there's only so much longer he can hold out. Because once he graduates, the Algorithm must be triggered.
Everyone in Lee's family has allowed the Algorithm to match them with a spouse. As has everyone on his block. His neighborhood. In fact, everyone he's ever known. Pairing with his own chosen match seems inevitable…until, at his sister's wedding, he meets Roman.
The waiter lives in the Taxable District, a run-down neighborhood that's only a brief train ride away, but feels like another world. The seedy District is governed by different standards—different expectations—so it's not exactly a surprise that Roman isn't married. But it's definitely a shock to taste his lips.
One forbidden encounter has Lee reeling. He questions everything. His past. His future. And especially the Algorithm. He longs for the freedom to choose not only his own partner, but his own destiny. 
When defying the Algorithm will cost everything—family, home, and even livelihood—is Lee strong enough to take another path? 
Review:
It took me a surprisingly long time to settle into this relatively short story (novella). I caught on fairly quickly that the Boomer and Taxable districts were adherents to different economic and dogmatic systems. But it wasn't until Lee started to identify his own privileges and the restrictions that came with them that I really started to appreciate the story. Watching him struggle with his responsibilities, searching for a way to meet them while being true to himself was a pleasure. The romantic subplot was sweet, but I felt almost unnecessary. I don't mean I wish it wasn't there. It was integral to the story Price was telling. But I also think the rest of Lee's experience was substantial enough all on its own. 
I don't know if the term Boomer was chosen specifically to create parallels to the Baby Boomers. But I do think that this story could easy be read as representing the divide between them and Millennials (leaving Get X out as always). Certainly, the difference in opportunities, mind set, and mores fits. All in all, a satisfying read. And Joel Leslie did a good job with the narration.