I borrowed a copy of Lynn Cahoon's One Poison Pie from the local library.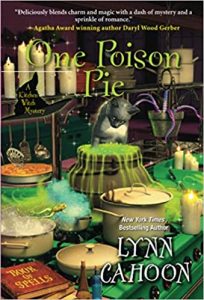 What's a kitchen witch to do when her almost-fiancé leaves her suddenly single and unemployed? For Mia Malone, the answer's simple: move to her grandmother's quirky Idaho hometown, where magic is an open secret and witches and warlocks are (mostly) welcome. With a new gourmet dinner delivery business—and a touch of magic in her recipes—Mia's hopes are high. Even when her ex's little sister, Christina, arrives looking for a place to stay, Mia takes it in stride.
But her first catering job takes a distasteful turn when her client's body is found, stabbed and stuffed under the head table. Mia's shocked to learn that she's a suspect—and even more so when she realizes she's next on a killer's list. With Christina, along with Mia's meddling grandma, in the mix, she'll have to find out which of the town's eccentric residents has an appetite for murder…before this fresh start comes to a sticky end. . .

I think this has a really fun cover and the story is really sweet. But I was super disappointed by how little magic is actually in it (practically none), the romance is basically instant relationship (so no satisfying getting to know one another or romantic tension AT ALL), and turns out you really need to have read the prequel that I didn't even know existed when I picked the book up at the library. Ok, you don't need to. I was able to follow the plot, but there was a lot I felt I was missing, having not read it, and that always effects my enjoyment of a book. (I strongly feel book one of a series is where you should be able to pick up a series, without feeling like you're missing anything. If you can't the numbering needs to be changed, IMO.) But the writing is clear and editing clean. I'd read another Cahoon book.