I borrowed a copy of Kit Rocha's The Devil You Know from the local library. I reviewed Deal With the Devil,  book one of the Mercenary Librarians series, last year.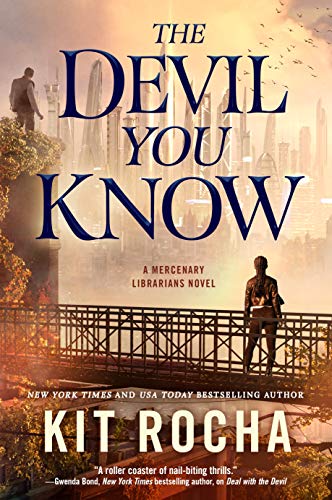 Maya has had a price on her head from the day she escaped the TechCorps. Genetically engineered for genius and trained for revolution, there's only one thing she can't do—forget.
Gray has finally broken free of the Protectorate, but he can't escape the time bomb in his head. His body is rejecting his modifications, and his months are numbered.
When Maya's team uncovers an operation trading in genetically enhanced children, she'll do anything to stop them. Even risk falling back into the hands of the TechCorps.
And Gray has found a purpose for his final days: keeping Maya safe.

I'm having difficulty deciding how I feel about this book. By the end, things picked up and I finished the book invested and looking forward to seeing what happens next. But, honestly, I was pretty bored for the first half of the book, when Maya and Gray mooned around in the warehouse and Nina, Knox, and everyone else went off and did hero stuff off-page. I realize that Maya and Gray were meant to the the main characters. But it felt like the book was focused on the wrong couple, since one was off doing something exciting and the other…well, just wasn't. On top of that, I didn't really feel Maya and Gray's connection. I know some of it was established in book one, but it just felt plopped in the readers lap here.
Having said all of that, I really liked all of the characters and how much they care for one another. They're also admirably diverse too, which I love. Plus, the post-apocalyptic world is really interesting, I really understood why they called themselves librarians far more clearly here than in book one, and the writing style is a pleasure to read.
All in all, not a 100% winner, but I'll be back for book three when it comes out next year.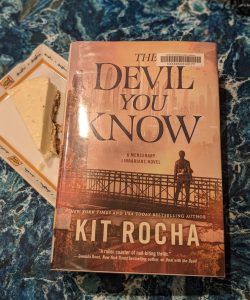 ---
Other Reviews: