I borrowed an audio copy of Grace Goodwin's The First Starfighter though Hoopla. It was narrated by Tor Thom and Avery Reid.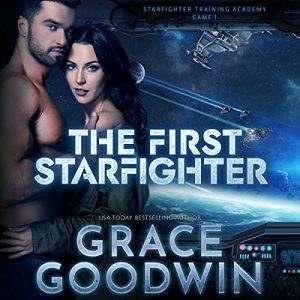 Starfighter Training Academy. It was just a game. The newest, hottest video game release of the year. Choose a role. Build the perfect hero who joins you on missions to save the Vega star system from the evil Queen Raya and her merciless Dark Fleet.
Play for hours? Check.
Obsess over the in-game romance between your avatar and the sexiest alien you've ever seen? Check.
Win? Beat the heck out of the game? Check and check.
Open your door at 3:00 in the morning to find that smoking hot alien you thought you made up in your head standing there? Um… okay.
Wake up on the other side of the galaxy with that same alien insisting you're his… and that you haven't been playing a video game, but completed the training program to become the first Starfighter from Earth?
Holy sh*t.


I needed to do some tedious and fairly mindless tasks over on my Sadie's Spotlight blog—cut/paste and checking links are live sort of stuff that I could easily do while listening to an audiobook. So, I decided to listen to a book that had been featured on the blog. That's how I ended up listening to The First Starfighter.
Now, you have to understand that I sometime really like to lean into cheesy sci-fi romances (or romantic sci-fi, since the romance is more the point than the sci-fi). I enjoy the cheese. That's part of why I read books like The First Starfighter. I'd never pretend to be surprised that sci-fi romances are sometimes cheesy. But there is a fairly thin line between laugh-with-the author cheese and cringe cheese and this book crosses that line about half the time. Which makes it about a half success for me.
The mechanical writing seemed fine, as far as I could tell in an audio version, and I liked the characters well enough. But Goodwin just rushed things a bit too much—the plot is very, very thin, even by romantic sci-fi standards—and tried to take the ridiculous plot too seriously, which took it from laugh-with-the-author to cringe-worthy.
But a half-success is better than no success at all and I think I'd be willing to give another of her books a try (which is good because I own several of them).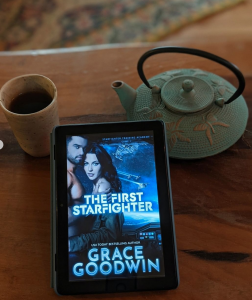 ---
Other Reviews: