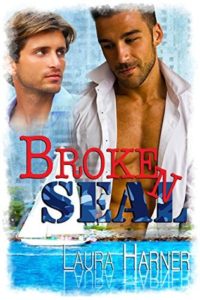 I picked up a copy of Broken SEAL, by Laura Harner from Amazon when it was free.
Description:
When former Navy SEAL Draco Kincaid is cut down in a hail of gunfire, he thinks he's lost everything: his friend, his club, his legs. Strapped to a chair and unable to separate the nightmares of his past from those of his present, Draco must learn to depend on others before the crack in his iron will plays into a killer's hand and he loses more that he ever thought possible. 
With the arrogance of youth, Noah Middlebrooks believes time can heal old wounds, until his missing brother turns up dead at a sex club in California. Now the sick bastard whose games were responsible for his brother's untimely death needs to explain what happened—then pay for his crime. Burning his final bridge at work, Noah heads to San Diego. With no job and no more family, there isn't anything left to lose. 
Regret and retribution put them on a collision course of self-destruction, but nothing can prepare either man for the life-altering impact of their first meeting. As a slow simmer of attraction builds in spite of their best intentions, both men must come to terms with the past or risk any chance of a future.
Review:
I did not until this moment (in reading other reviews) realize that this was a spin off from another series (that I haven't read). That explains a few little things about it. It did stand on its own, but it still felt like there were things you should know; like the Willow Springs Ranch was referenced but not explained, for example.
All in all I enjoyed this. Draco and Noah were likable characters. They were very sweet together the book flows well, making it an easy read. But if I really stop and think on it I find problems. Draco took to his paralysis far too easily. I appreciate that Harner included a paraplegic as a romantic lead, especially a dominant romanic lead, but you honestly never felt him struggle with this devastation in his life. There were just a couple references to how much he hated depending on others or asking for help. It felt like a plot device.
So, did the BDSM aspect of the book. Draco owned a sex club, got it. But you never found out what his specific kink was and when Noah asked about his brother's he's sharply shut down. The BDSM played no real part in the story. Neither did the fact that the men are SEALs, other than to spout off about being SEALs. They could have been cops, or security guards, or any other military men. Again, it just felt like a plot device.
Even worse, Nick felt like a plot device. He was never developed past "the dead brother" and his lack of development made me resent his death to benefit another. Further, there were some important points missing in Noah's acceptance of his brothers death. He never asked to see his apartment or pushed to know where he was buried. He basically never engaged with the memory of his brother at all and that made the whole scenario unbelievable as a motivating factor. Though no where near as unbelievable as what the reader was asked to believe led to Draco's dismissal from the Navy. That was just plain too much for my suspension of disbelief. I literally rolled my eyes at it. All in all, it was amusing, but problematic.
Oh, and I have to ask about that cover. Neither person on it matches the description well, but more importantly the book isn't set on water, no one sails, it doesn't have a nautical theme. Literally, nothing about that cover makes any sense for the story behind it.
Edit: I've been reminded that Laura Harner was caught plagiarizing last year. If I'd remember this I wouldn't have picked this book up. I don't believe in supporting this behavior through continued patronization.