I picked up a copy of Bianca D'Arc's Grizzly Cove (vol 1-3) during one of its Amazon free days.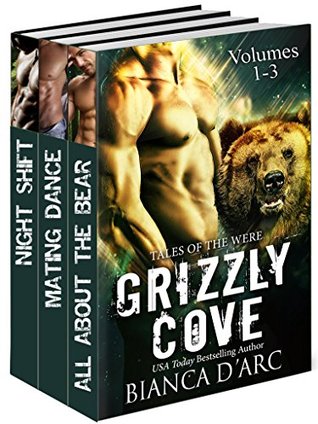 Description from Goodreads:
Welcome to Grizzly Cove, where bear shifters can be who they are – if the creatures of the deep will just leave them be. Wild magic, unexpected allies, a conflagration of sorcery and shifter magic the likes of which has not been seen in centuries… That's what awaits the peaceful town of Grizzly Cove. That, and love. Lots and lots of love.

This anthology contains:

All About the Bear
Welcome to Grizzly Cove, where the sheriff has more than the peace to protect. The proprietor of the new bakery in town is clueless about the dual nature of her nearest neighbors, but not for long. It'll be up to Sheriff Brody to clue her in and convince her to stay calm—and in his bed—for the next fifty years or so.

Mating Dance
Tom, Grizzly Cove's only lawyer, is also a badass grizzly bear, but he's met his match in Ashley, the woman he just can't get out of his mind. She's got a dark secret, that only he knows. When ugliness from her past tracks her to her new home, can Tom protect the woman he is fast coming to believe is his mate?

Night Shift
Sheriff's Deputy Zak is one of the few black bear shifters in a colony of grizzlies. When his job takes him into closer proximity to the lovely Tina, though, he finds he can't resist her. Could it be he's finally found his mate? And when adversity strikes, will she turn to him, or run into the night? Zak will do all he can to make sure she chooses him.
Review:
This is an odd book to review, because honestly, on Goodreads, I wrote the same short review for both of the first two books. I said, "Short, shallow, repetitive, and hokey. But cotton candy sweet if you're into that sort of thing. Mechanical wring and editing seems fine."
I had a little more to say about book three, but not much. For book three I quoted the review from the first two books, but added, "This holds true for this third book too. But I feel like the author did something different here. She tried to bring in a larger plot (the third book seems an odd place to do this, but ok), one that didn't get resolved in this single book. So, while the romantic pairing stands alone, the actual plot does not."
So, as you can see, these books didn't particularly impress me. And being as short as they were, I didn't take much time in crafting reviews for them. I might have even skipped bring the reviews here to my blog, except that I don't have a D-author for my author alphabet challenge. Welp, now I do.