I picked up a copy of M.J. Caan's Hex After Forty on Amazon…Well, technically my husband did. Whenever he gets digital credits he lets the add up and then gives them to me to buy ebooks with, since we share libraries.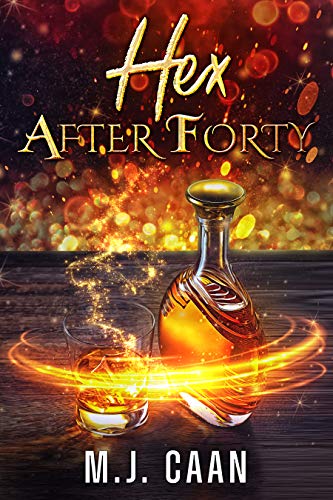 Torie Bliss thought that being over forty and having your husband dump you over your favorite meal would be rock bottom. Then she learned that the perfect life he had created for them was built on a foundation of lies.
A very public fall from grace leaves her penniless and homeless. Thinking she had nothing else to lose, she decides to move in with her estranged mother in a picturesque town in the mountains of North Carolina. Only to discover that her mother is quite the witch. Literally.
And so is Torie. They are from a line of witches who develop their magic after the age of forty. As if hot flashes and night sweats weren't enough, she now has to contend with wild magic that she has no idea how to control.
But she must learn to tap into her strange new powers to help her new friends solve a terrifying mystery.
Someone is killing off shifters in the sleepy town of Singing Falls, and if Torie can't get her act together, she just may be next on the supernatural serial killer's list.
Can Torie let go of her past in order to embrace her new future?

I wouldn't call this all out bad, just shallow and scattered. I liked Torie and all the friends she made in her new town. But I could barely tell all the ladies apart. Plus, the plot and mystery doesn't really develop so much as just kind of stutter along until the villain decides to reveal themselves.
The writing is perfectly readable, though the editing has a few (though not an overwhelming number) hiccups. I raised a particular eyebrow at this one, "They knew her mother in this life, new her in a way that Torie did not." <.<
But I do have to make a half-joking objection to calling a book Hex After Forty, which is obviously a play on Sex After Forty, which Torie even says at one point, and then not having any sex in the book, barely even the beginning of a maybe future romance. That's just mean.
All in all, I wouldn't warn anyone off the book but I'm not in any hurry to continue the series either.