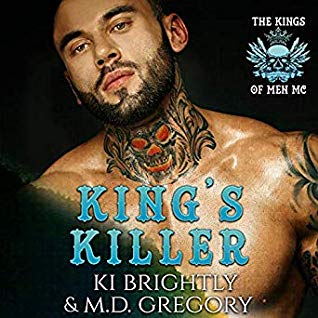 I received an Audible Code for King's Killer, by Ki Brightly and M.d. Gregory.
---
Description from Goodreads:
Walking the Line Between Good and Evil
Physician's assistant by day, doctor to the Kings of Men MC by night. Grant Arthur's life is tough to balance, but he does what he can to help his brother, Aaron "King" Arthur, the president of the motorcycle club. Trapped as an outsider to the club by his brother for safety, Grant prefers the quiet life, until the Kings visit him in the middle of the night with an injured member. With them is Kai Woodrow, rugged and dangerous, who Grant can't tear his gaze from. 
A Killer Who Gave Away His Heart
Reaper kills for a living. He's the man King calls when he needs to send a gruesome message. Unfortunately, Reaper's also human, and has all the needs of a man. He's been in love with Grant since they shared a foster home as teens, but he knows how protective King is. Reaper could never betray his president and friend, even if Grant's the only one who sees him as Kai. He settles with quietly stalking Grant, until one night they bring him an injured club member. 
One Wild Night
When Grant is nearly hurt, Kai can't resist living in the moment, even if it's bound to get him killed by King—or someone worse. The world doesn't stop turning because he finally kissed Grant, but with any illegal motorcycle club, trouble comes along for the ride. When Grant is kidnapped, Kai would move heaven and hell to find him, and destroy the people who took him. 
---
Review:
Soooooo…..no.
The writing in this book is fine. However, despite a strong start it was a total flop for me. The reason being the sex. At one point while listening to this book I strolled by a mirror and noticed that I actually had my lip physically curled into a sneer. I was that displeased with it.
Here's the thing. I have no problem with the Master/pet, Sir/boy, D/s (whatever you want to call it) relationship as a kink. HOWEVER, in a book it really has to be tied in somehow. In King's Killer, not only did nothing in the narrative suggest either man was into this sort of sex (and at no point had either felt the other out to see if the feeling was mutual), prior to the first sex scene the reader is given the distinct impression at least one of them is against it and the other has only ever really had one night stands. There is a scene in which Grant is speaking to another King, who is into whips, chains and such, and Kai thinks to himself that Grant is too good to get involved with such things. So, when Kai later literally pulls out a chain during sex it felt HORRIBLY incongruous.
Further, part of what Kai is supposed to love about Grant is that he can be his more gentle self. Kai is supposed to be the only man he doesn't want to see him as a monster. So, the first thing he does once he gets him in bed is slap him and start calling him Boy in a distancing manner? No, it doesn't fit the narrative AT ALL! I sneered every time he said it.
I cannot stress enough how out of place this dynamic felt to the story. In fact, I strongly suspect it was only included because the whole Sir/Boy thing was a fad for a little while. I just started skipping through the sex scenes.
Similarly, Kai and Grant were supposed to have known each other since they were children. Exact time frames aren't given. But it's more than 10 years, at least. Since Kai is older, he's fantasized about Grant since he was 16, and Kai is 27 in the book. But the two seem like practical strangers. In the beginning Kai insists on keeping his distance from Kai because he's loyal to Aaron and Grant is afraid of Kai. Then out of nowhere, with no instigating event, the two suddenly threw themselves at one another. What changed? NO idea.
Lastly, I need to address the narrator. He did a fine job. Mechanically I have no complaints. But I think he was the wrong choice for this book. He sounds about 12. I looked him up. He seems to be mid-twenties (or there about), but he sounds young. This made the already unappealing sex scenes super awkward and uncomfortable for me.
All in all, I felt like this book tried to accomplish something it wasn't able to. It didn't have the foundation to carry the dynamic the authors set out to develop (or fell into developing).
I also have a few odd little notes. I'm a little befuddled by one author naming a character after themselves. It may be spelled differently, but I listened to the audio. So, that made no never mind to me. And I think there was a point late in the book where Grant was referred to as Arthur more than once. I was confused, maybe I was misunderstanding something.