I purchased a copy of Lydia M. Hawke's Becoming Crone.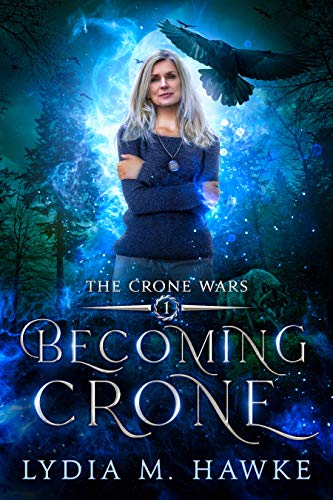 She wanted purpose. She found dark magick and war.
For Claire Emerson, there is nothing ordinary about turning sixty.
First, there are the crows. Then, a pendant that unlocks a gate to a house in the woods–which comes with a snarky gargoyle, an entirely too-sexy wolf shifter claiming to be Claire's protector, and a legacy that turns her reality upside down.
Because divorced, menopausal grandmothers with creaky hips and hot flashes? They don't just randomly discover they're next in a long line of powerful women protecting the world from the dark magick of Mages.
Claire's first instinct is to turn tail and run back to the safety of baking cookies and reading bedtime stories. But when it becomes clear the Mages have targeted her, she may have no choice but to accept her calling. There's just one problem: she never got the lifetime of training she was supposed to have, and her magick is… well, unreliable would be an understatement.
With the Mages threatening everything she loves, can Claire learn what she needs to in time to become Crone? Or will she be the one to lose an ancient war—and her life?


While I liked this book, in the most general sense, I don't suppose it'll make much sense to say that I love that the is a book about a 60-year-old woman, but wish it was less about a 60-year-old woman. I really wanted Claire to be a badass woman who happened to be 60-years-old. Instead she's a 60-year-old woman who happened to be badass (or was working towards becoming badass…ok, she wasn't badass but has the potential to be in the future). And while that might seem like an impertinent difference, it wasn't for me.
Too much of the book is "Woe is me, I'm 60," "I need my reading glasses, I'm 60," "My hips/ankles/toes/joints hurt, I'm 60," "I haven't had a libido for decades, I'm 60," etc. I want 60-year-old heroines. But this book seemed to make being 60-years-old Claire's whole personality. And that focus felt much more like… maybe tokenizism is the word I want, maybe. It certainly wasn't a full engagement and purposeful subversion of society's tendency to erase older women or truly encompassing and embracing the power of the crone. It 100% wasn't making Claire feel anymore like a true, fleshed out character than the young Chosen Ones we all have read ad nauseam. All of which disappointed me.
I was also simply bored by a lot of this story. Claire doesn't even come to accept her situation until past the 60% mark and all of the action is in the last 10% or so. Having said that, I like the idea of Claire and, if I accept that this first book set the stage and gave her the training and knowledge, I can hope that the next book in the series will be more interesting. The writing and editing is perfectly readable and the overarching plot has me curious. So, I think I'll give book two a shot and see how it goes from there.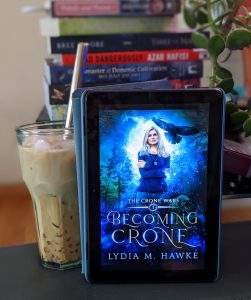 ---
Other Reviews:
Bea's Book Nook: Review Becoming Crone
Mini-Reviews of Books I Requested Through I Smell Sheep June-July 2021