I accepted a review copy of Tin Cat (by Misa Buckley) through Lucy Turns Pages.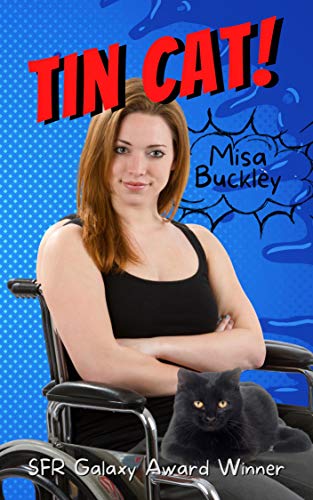 A year after the accident that put her in a wheelchair, Amber Gerald has more or less gotten used to living with her impairment. It doesn't make a difference to running a comic book store anyway, and the customers have been the best support group she could have wished for.
When she rescues an abandoned cat, Amber has no idea that she's interfering in the mad scheme of a time travelling bank robber. Or that the man that walks into her store dressed like Blade is about to become her bodyguard.
Between being an unwitting owner of an android cat and falling for a cybernetic bounty hunter, Amber finds her life a whole new level of weird as science fiction becomes a very real factual threat.


Do I want to start with the good or the bad? It's a legitimate question because this book has both. I'll start with the fact that I really liked the characters. The writing is easy and pleasant to read and the editing seems fairly clean. There are quite a few fun little geeky references. As far as I can tell (as a non-wheelchair user) the disability representation seems pretty good. At the very least, Buckley didn't commit any of the big faux pas I keep on a lookout for. Plus, there is actual on-page sex between the two main characters. I feel like people who live with disabilities don't often get to see themselves having the sexy times in books. So, I was thrilled by this.
On the other side of the coin is the fact that everything moves far too quickly. And I don't even just mean the insta-lust/love. I mean that the plot moves too quickly for the reader to become attached to and/or care about the well-being of the character.The result was that I made to the end of the book without too many complaints, but also with a shrug.
And then there is the cover. It's just not very good, IMO. Oddly, I've seen an older cover and think it's better (though still a little too DIY to be called good). And—yes, this is a small thing but I am unreasonably annoyed by it—Cat is described as a tabby cat ON PAGE ONE. So, why is there a solid black cat on the cover ?
All in all, I'd call this a middle of the road read for me. It wasn't bad, but I probably won't remember it by next week. But I'd read another Buckley book.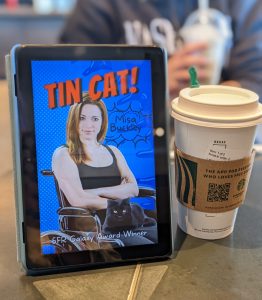 ---
Other Reviews:
Wi Love Books –  Review: Tin Cat