I borrowed an audio copy of Monica Fairview's Dangerous Magic through Hoopla. It was narrated by Jennifer M. Dixon.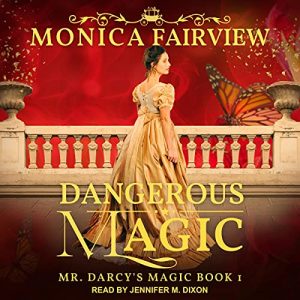 Elizabeth Bennet is stunned when the Royal Mages come to her peaceful country home of Longbourn to take her away. She is even more bewildered when she is commanded to marry a powerful mage by the name of Fitzwilliam Darcy. She has always dreamed of marrying for love, and an arranged marriage with an arrogant stranger was never part of her plans.
But Darcy and Elizabeth have no choice in the matter. Uniting their two forms of magic is essential if the Kingdom is to defeat Napoleon's mages. They may dislike each other on sight, but Darcy and Elizabeth have to overcome their differences and find common ground before it is too late. Fortunately, it is not long before the sparks begin to fly between them.
Join the author of 'Fortune and Felicity' in this enchanting Jane Austen Variation, a story of determination, love, and hope against all odds.

I'm not entirely certain why I downloaded this book. I'm not a particular fan of re-tellings, be they fairy-tales or Jane Austen. I think maybe I just wasn't paying enough attention to notice the subtitle at the time.
I am of two fairly disparate opinions about this book. On one hand I think it would have been a perfectly readable story without the gimmick of tying it into Pride & Prejudice. And on the other hand I feel that if it hadn't been ham-stringed by following Pride & Prejudice's plot (even loosely) it could have grown into a deeper and more compelling story.
My main emotion while listening to this book was boredom. I felt like nothing happened for the vast majority of it. Then suddenly Darcy's feelings for Elizabeth changed out of nowhere and then hers did too. Then there was a fairly vague battle, some drama in the background, and ardent declarations of love. I didn't feel engaged or engrossed in any of it.
Further, While I understand that as a re-telling Fairview was somewhat constrained in character portrayals, but I'd be thrilled if we could all stop writing stories where all the men are lovely and trustworthy and all the women (if there are any at all) are jealous and duplicitous.
The writing itself seems perfectly fine. It seemed to pass as Austen-like and was certainly easy to listen to. All in all, I think this will work for others more than it did for me.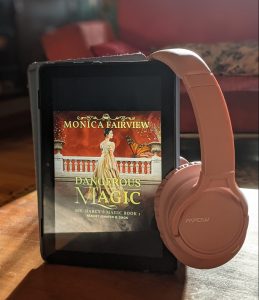 ---
Other Reviews:
Dangerous Magic by Monica Fairview
"Dangerous Magic" by Monica Fairview, review + giveaway
Dangerous Magic: A Pride & Prejudice Variation (Mr. Darcy's Magic Book 1), by Monica Fairview — A Review