I recently picked up a copy of Xen Randell's The Wave Of Silence as an Amazon freebie.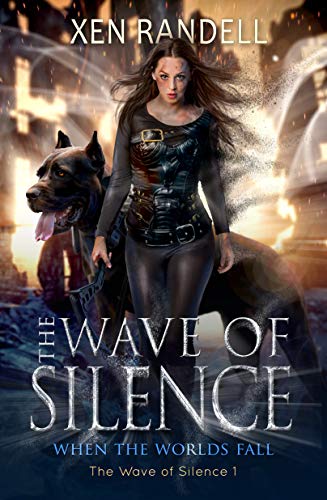 As with most disasters, this one began as a potentially good idea. A breakthrough for humanity.
After a science experiment gone awry which throws the world into chaos and destruction, Alex finds herself alone and on the fringe of surviving.
Fanged, savage strangers called strigòns populate the Earth, entering from one of the dimensional tears; and despite their mutual animosity and hatred, Alex and her super-smart dog Einstein hop on an adventure to save both their and the strigòns' worlds.
Will this group of unexpected allies save what's left of their post-apocalyptic worlds or is the damage too great to be repaired?
Follow Alex and Einstein in their quest and see how far it gets you.

I freely admit that I chose to read this book entirely for the dog on the cover. So, I didn't go into it with high expectations. Which is good, because I'd have been disappointed. I think pedestrian and not particularly well edited is the kindest way to describe it.
The book sets up an interesting premise and world and then goes about completely not utilizing it. The whole book is basically traveling to the important thing they're supposed to do, as opposed to the actual thing, completion or prevention of the things, and/or the fall-out of the thing. I was frankly bored for most of it. Which meant I had nothing to distract me from the messy editing and sometimes impenetrable writing. Like this, for example, "Soft susurrus of the more persistent leaves concerted with the melancholic whine of the late autumn wind kissing naked tree branches." Do you know how long it took me to figure out the wind was blowing through the trees?
Add to all that the predictability, deus ex machina saves, and the way everyone lusted over the rather lack-luster heroine and I was just plain not having a good time, my dude. Glad to be done with it.