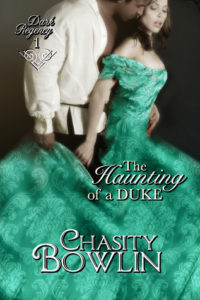 I picked up a copy of The Haunting of a Duke (by Chasity Bowlin) from Amazon. It was free at the time and still free when I posted this review.
Description from Goodreads:
Communing with spirits has been both gift and curse to Emme Walters. Now it's made her a killer's target.
Emme knows why the Dowager Duchess of Briarleigh invited her to a house party–to investigate whether the duke, Rhys Brammel, murdered his wife years ago. But Emme never imagined she would fall in love with the brooding duke. Branded by society as a possible killer, Rhys is suspicious of Emme and her alleged "gift."
Then a late night encounter creates awareness of her other, more attractive, aspects. When Emme's life is threatened, Rhys becomes her protector. Emme and Rhys find passion and peril as they join forces to solve the mysteries at Briarleigh.
She made him believe in spirits, but can she make him believe in love?
Review:
Mechanically the writing here is fine, if painfully repetitive with certain phrases. But the whole plot, every single aspect of it is just so cliched and overused I can't give it any more. There is literally no aspect of this plot I couldn't have predicted just by thinking about what motive you see most often in this sort of book and which of the characters were described to match the most common idea of villainy. Plus, it could do with more editing. I mean, the epilogue appears twice in the Kindle copy, so….
I had to just skim the sex scenes as they were so unexceptional and, to me, annoying. I find sex scenes that continuously focus on how "innocent" and "untried" and "untutored" and "inexperienced" the woman is, as well as ones that might as well just be a grocery list of which body parts the man lusts over boring to the extreme. Plus, I found it disturbing how often she couldn't identify her own feelings. I will give her credit for at least being willing to accept her own desires once she finally identified them and she never pulled the common, "What's happening to my body" schtick when she lost her virginity.
All in all, I keep trying to like Regency Romance and every once in a while I encounter one I do, which encourages me to keep trying. But this is a pretty classic example of why I generally don't like the genre, even if paranormal aspects were thrown in.