I purchased a copy of Lillian Lark's Deceived by the Gargoyles. Well, actually, my husband always gives me his Amazon Prime credits to buy ebooks (for the family library technically, but I'm the only ebook reader). And I bought this book with his credits.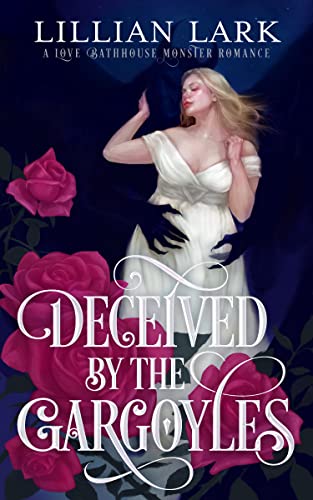 A curvy librarian looking to start a family, a clan of gargoyles, and the deception that starts it all.
My family has always found me lacking. From the way I dress, how I look, to the type of magic I have. My family name is full of pomp and prestige, and I want nothing to do with it.
I'm a witch that knows how to set a goal and I have one in mind.
I want a real family.
Dating is a travesty. All the suitors I meet are looking for a connection to the family name I left behind. I need help.
Enter the matchmaker. It seems too good to be true that I can give her the list of traits I want in a partner and have my deepest desire answered, but I'm out of options.
Love comes along in the most unexpected ways.
From the very first moment I meet Elliot Bramblewick, I have hope. But he's tricky.
I'm not expecting him to be hiding two other mates. Mates who are as alarmed and intrigued by my presence as I am by theirs.
He thinks I'm a perfect fit for them, but can I open my heart and discard my list long enough to see if this is the family I'm looking for?
None of my lists and plans prepared me for being courted by three gargoyles.

This is my first booktok made me do it book. I bought it after seeing it recommended on Tiktok (which I'm new to). And I thought it was very sweet. I didn't love it as much as the recommender, but I didn't dislike it either. I thought it a perfectly passable fluffy read, with no need to be more than that.
I loved the body and sex positivity of it. I very much appreciated seeing a group of people all being conscientious and simply kind to one another. All of the tension building drama is from outside the group. In that sense, I can see this being a comfort read for some. I liked all of the characters individually and the world seems an interesting one.
However, I thought the villain and his motivation super clichéd. I thought it overly long, and the sex (which it is heavy one, being romantic/erotic fantasy) is very insert giant rod A/B/C into tiny slot V. The titillation seemed entirely dependent on the FMC adapting to be able to take massive and/or multiple cocks, with the climax (pun intended) being her ability to perform/endure double penetration with big 'men'. It's very focused on what went where, when and how. So, quite explicit, but not particularly erotic, in my opinion. But the men's general care for boundaries and self-acceptance was sweet.
All in all, it was an enjoyable read and I'd read more of the series. But I'm not rushing out to buy the next (or previous) book.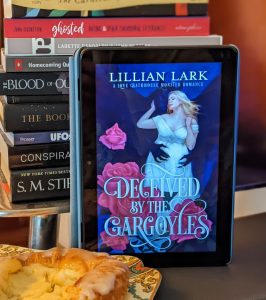 ---
Other Reviews:
Deceived by the Gargoyles by Lillian Lark
Deceived By The Gargoyles (Monstrous Matches #2) by Lilian Lark