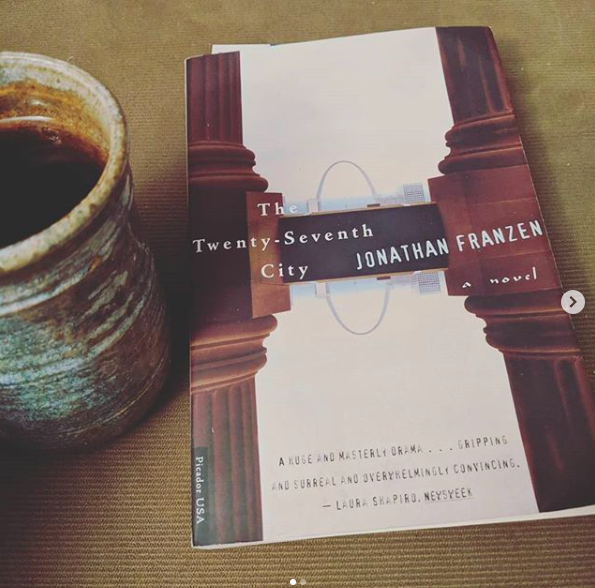 I picked up a copy of Jonathan Frazen's The Twenty-Seventh City at Goodwill, because it's set in Saint Louis (my town). I then suggested it as my bookclub's November book and it was chosen. 
Description from Goodreads:
St. Louis, Missouri, is a quietly dying river city until it hires a new police chief: a charismatic young woman from Bombay, India, named S. Jammu. No sooner has Jammu been installed, though, than the city's leading citizens become embroiled in an all-pervasive political conspiracy. A classic of contemporary fiction, The Twenty-Seventh City shows us an ordinary metropolis turned inside out, and the American Dream unraveling into terror and dark comedy. 
Review:
I had a really hard time deciding if I liked this book or was just charmed that it's largely set in my neighborhood. And I mean neighborhood, not just city. Though a transplant, not a native, I live in Webster Groves, where a lot of the book takes place (and apparently the author grew up). There really is a Schnucks on the corner Franzen says there is. The high school team really is the Statesmen. A lot of the attitudes people hold in the book really are ones I've encountered in Webster Groves (for better and worse). I live in the not so posh side of the neighborhood from the characters in The Twenty-Seventh City, but it was still amazing to read a book set SO LOCALLY. 
If I try to decide how I feel about the book outside of my familiarity with the locale, I find that I didn't dislike it. I thought it was cleverly written and, though 30 years old, quite relevant to today.  I was uncomfortable with some aspects of it—the villains being so obviously cultural Others, the blatant way race was addressed (though Saint Louis is a notoriously segregated city, so this rings painfully true), the way women who were infidelious all seemed to come to a bad end, while the same wasn't true for even the skeeviest male cheater. (Rich white men get away with so much after all.)
All in all, however, I have to say it kept me interested