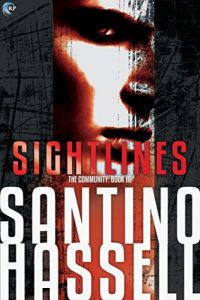 I received a copy of Santino Hassell's Sightlines through Netgalley. I reviewed the first two book in the series, Insight and Oversight, earlier in the year.
Description from Goodreads:
Chase Payne is a walking contradiction. He's the most powerful psychic in the Community, but the least respected. He's the son of the Community's founder, but with his tattoo sleeves and abrasive attitude, he's nothing like his charismatic family. No one knows what to make of him, which is how he wound up locked in a cell on the Farm yet again. But this time, the only man he's ever loved is there too.
Elijah Estrella was used to being the sassy sidekick who fooled around with Chase for fun. But that was before he realized the Community wasn't the haven he'd believed in and Chase was the only person who'd ever truly tried to protect him. Now they're surrounded by people who want to turn them against their friends, and the only way out is to pretend the brainwashing works.
With Chase playing the role of a tyrant's second-in-command, and Elijah acting like Chase's mindless sex toy, they risk everything by plotting a daring escape. In the end, it's only their psychic abilities, fueled by their growing love for each other, that will allow them to take the Community down once and for all.
Review:
I hate to say this, but I think my love affair with Santino Hassell's books is over. On the sites I'm forced to use a numerical start rating, I almost gave it 2 stars. The end dragged it up to a third, but it was a close call. I simply didn't like it. I didn't like the characters. I didn't like the narrative style. I didn't like the pacing. I. did. no. like. it. And if I'm honest, the last several books by Hassell that I've read have skirted this same edge. And it makes me so sad, I lovedhis early works. But all his characters feel the same now and here I felt Chase was taken to such a grumpy extreme that I couldn't overcome it enough to enjoy his character. And Elijah was a shadow, barely there. As always, the mechanical writing is good but this book was a bust for me.