I picked up copies of E.M. Jeanmougin and Jay Wright's Strangers in the Night and Friends in Low Places (The Hunder and the Spider series, #1 & 2) when they were freebies on Amazon. I'm afraid of spiders, so the idea of an MM Urban Fantasy with a werespider both horrified and intrigued me!
---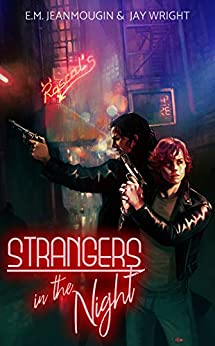 Where there's demons, there's bound to be demon hunters and in Brooklyn there's no shortage of either.
Jasper Craig is a hunter at New York's secret St. James Academy, and he's one of the best. With superior strength, agility, and a handy ability to sense demonic energy, it's like he was born for the job. Since he was orphaned at a young age, his parents took the secret of what, exactly, he is to their graves. And if his adoptive father knows, he's not telling.
Loyal to the cause of keeping the mortal world safe from the evils of demons, there isn't anything Jasper wouldn't do. So when his father and superior officer tells him to go undercover to trick a rare and dangerous werespider, Jasper agrees.
Crimson Apocalypse is one of New York's oldest residents and the only known werespider in the north eastern United States. He's the sort of guy who lives as fast as he talks and talks as fast as he drives, and if Jasper wants to get closer to the werespider he's going to have to keep up.
But getting closer might be dangerous in more ways than one and what Jasper learns may not be what he expects.

This had a strong start, sagged in the middle, and then ended well. Now, don't get me wrong, I enjoyed all of it, even the saggy middle. I liked Jasper and Crimson (and Al and Max) a lot and loved the slow-SLOW burn of their relationship. But the book doesn't have one over-arching plot or villain to defeat, etc. It's mostly two people who meet, are given a reason to be thrown together, and then go about their daily lives together. It just so happens that those lives are quite exciting. It just felt like the middle went on a little too long and got a little too creative (ridiculous) before finally tapering off to a cliffhanger ending. I am jumping right into book two though, so I obviously liked it (even if I'm afraid of spiders and therefor a little horrified by the giant werespider).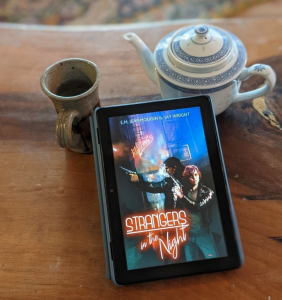 ---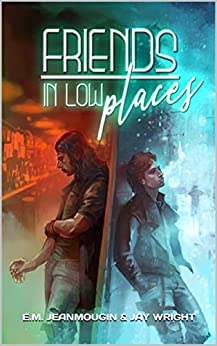 No one ever said being a Hunter would be easy, but Jasper Craig is finding it much more difficult these days.
Following the events of an eye-opening summer spent in the field, Jasper is back within the walls of St. James Academy – New York City's world-renowned Hunting agency and training school.
And he's hating every minute of it.
Unfortunately, the only way out is through, and so, with all eyes on him, Jasper once again rejoins the ranks of Hunters keeping the city "safe" from demonic threat.
But St. James' dogma has lost its luster for Jasper. Not every demon deserves to die due to their inhumanity. Jasper's (ex?) boyfriend, Crimson Apocalypse, taught him that.
Speaking of Crimson, when a series of mutilated corpses bearing Jasper's name begin showing up around town, the Hunters suspect the three-thousand-year-old werespider may be to blame. Even worse, there's plenty of evidence to support the claim. Only Jasper, who knows the man within the monster, believes otherwise. But can he slip through St. James' iron-clad grip and catch the real culprit before it's too late?

I enjoyed this, though not as much as book one, and more in the second half than the first. The problem, for me, was that the two main characters aren't together in the book until the 55% mark. They are apart and miserable that whole time, and it felt longer than need be to make the point it was making. However, once they got back together and the pace picked up, I was a happier camper. The whole thing wrapped up satisfactorily, but with several open threads. I look forward to finding out what happens in the next book (whenever it comes out).