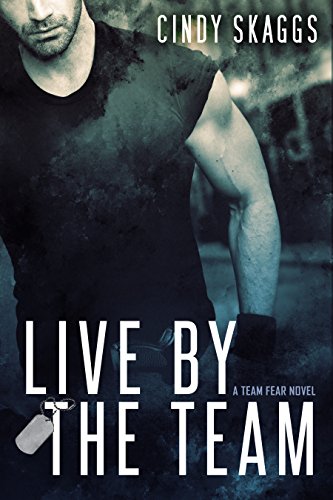 I picked up a copy of Cindy Skaggs' Live By the Team as an Amazon freebie.

SSgt. Ryder was born, bred, and enhanced as a warrior, but when he returns home to his new wife–exiled from the Army along with the rest of his disgraced team–he faces mounting anger and paranoia. Something shady followed Ryder back from the desert, and he disappears to protect his wife, but his departure leaves a vacuum filled with intrigue.
Lauren Ryder married thinking she had finally found stability, until her new husband disappeared. In six months, she's lost everything that mattered, and now a madman has her in his sights. Ryder's return lands her in deeper danger from a formidable enemy. As the threats escalate, so does the heat, but even if Ryder can save Lauren from the forces mounting against them, will they survive what he has become?
Military trained, medically enhanced, designed to kill. The Team Fear novels are fast paced, with twists and turns and a side of steamy. The surviving members of Team Fear are out of the military and in a world of secrets, lies, and cover-ups in this new romantic suspense series by Cindy Skaggs.

I liked this OK, wouldn't say I loved it, but I liked it. I liked that Lauren had volition of her own and wasn't ready and willing to hand over responsibility of her protection to another. I liked that Ryder was so clearly in love and willing to show it. I liked that the two were already married, so the romance was a little different that the normal meeting and falling in love sort. I thought Rose and Debi were fun side characters.
However, the 'love' was too focused on sex (it got redundant), too much of the plot hinged on Ryder's unwillingness to simply say what needed to be said, the super-soldier aspect was all hand-wavy, and I was actually quite bothered that ~80% of the book was dodging one established threat, but that it suddenly evaporated and the last part of the book was dealing with an entirely different, unrelated threat. I suppose it was a plot twist, but it felt more like a plot shift to me.
All in all, I liked Skagg's writing. I'd read another of their books. But this was a so-so read for me.