I had a couple hours worth of mindless, repetitive type tasks ahead of me. So, I sought out a short audiobook to get me through. Which is how I ended up borrowing Alien Abduction for Beginners, by Skye MacKinnon through Hoopla.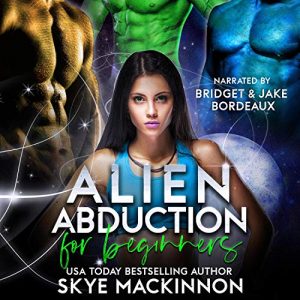 Not all aliens are good at abducting humans.
Havel, Matar and Xil have failed too many times to count. Luckily, there's help available for failed kidnappers: a diploma offered by the Intergalactic University. To complete their course, these three sexy aliens need to abduct a human female – and they're graded on it.
The problem is, the human female has no intentions of being abducted, not even to help them get the universe's most recognised abduction qualification.

I picked this up knowing it was going to be a silly, sexy space romp and I was cool with that idea. I wasn't looking for anything more.
But it pretty much fails. It has too much plot to be erotica and, frankly, not enough sex. But there isn't enough plot to be called a romance, even an erotic romance. The comedy aspect is almost entirely of the cultural misunderstanding sort and falls much closer to stupid than endearing. And while I liked the males, I couldn't really tell them apart most of the time.
Plus, I disliked Jake Bordeaux's narration. It was stiff and gave me a vague sense that he was making fun of the story even as he narrated it. Bridget Bordeaux did a better job with the female characters. But much less of the book is from a female perspective. All in all, it got me through my chores, but that's about it.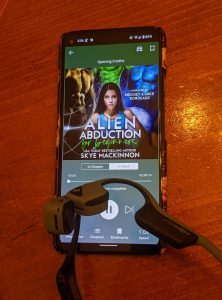 ---
Other Reviews: