I borrowed an e-copy of Layla F. Saad's Me and White Supremacy through the library. I read while out doing my solo protest.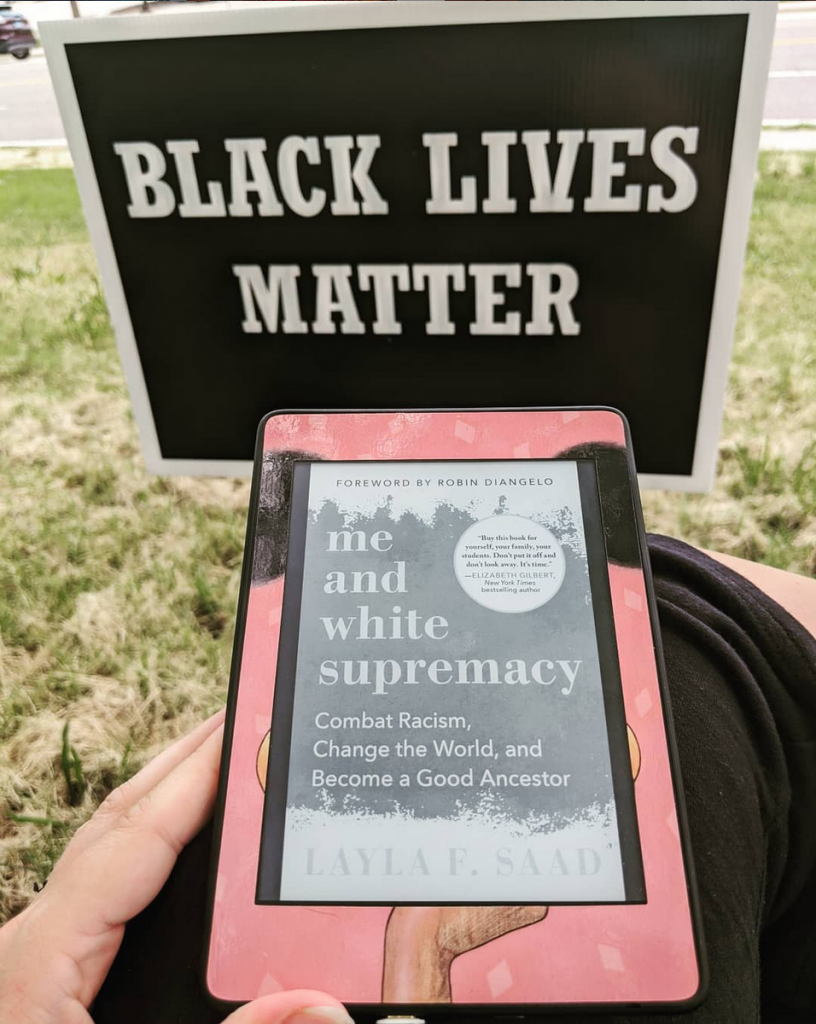 Description from Goodreads:
Me and White Supremacy teaches readers how to dismantle the privilege within themselves so that they can stop (often unconsciously) inflicting damage on people of colour, and in turn, help other white people do better, too.

When Layla Saad began an Instagram challenge called #MeAndWhiteSupremacy, she never predicted it would spread as widely as it did. She encouraged people to own up and share their racist behaviors, big and small. She was looking for truth, and she got it. Thousands of people participated in the challenge, and over 90,000 people downloaded the Me and White Supremacy Workbook.

The updated and expanded Me and White Supremacy takes the work deeper by adding more historical and cultural contexts, sharing moving stories and anecdotes, and including expanded definitions, examples, and further resources.

Awareness leads to action, and action leads to change. The numbers show that readers are ready to do this work – let's give it to them.
Review:
While reading this book, I had to remind myself of being taught to study (many long years ago) and being told to be judicious with my highlighting. If you highlight too much, it deletes the purpose of marking particular passages to be found again. I thought of this because I'm quite certain I highlighted at least half of this text. There is a lot here to unpack and a lot of it doesn't lend itself to a single, simple reading.

Having said that, I wasn't able to engage in the book in quite the manner it suggests. It is intended to be read and engaged in one chapter a day, over 28 days. I only had access to it for about two weeks. (It's a library book.) So, my reading was perhaps a little more rushed than I'd have liked. But I still got a lot out of the book. I think it will be particularly useful for people who want something that lays out all the definitions and how the ideas of white supremacy, white exceptionalism, tokenism, visual allyship, etc all build on and relate to one another. It would be especially good for someone just starting the anti-racism work to firmly establish that this stuff is real. It's not soft science or butthurt fealing, it's real and affects people all day every day.

In the beginning, I admit to being a little wary since the author isn't American. I won't pretend we're the only country in the world with racism. But I felt like a non-American author couldn't quite do the subject of the American experience justice for an American reader. I was wrong (and there is probably some bullshit national exceptionalism buried in the initial assumption). So much of what is addressed in this book isn't tied to nationalism. It's simply anti-black and global. This is actually one of the subtler lessons I took away from reading the book.

All in all, I found this well worth the time.