Earlier this year, Abigail Linhardt's These Darker Streets was featured over on Sadie's Spotlight and I was lucky enough to win a copy of the book.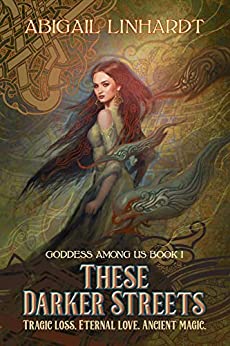 Tragic loss. Eternal love. Ancient magic.
Brigit is dealing with the loss of her mother and brother while trying to run her mother's shop of magical oddities. She used to believe in magic and had hopes for a great future. When fate took her family away before she was ready, all of her belief in happiness and love died with them. When a mysterious man named Ildanach appears and is everything Brigit is not–happy, fun, adventurous, and extremely handsome–she feels her stable life of hiding being threatened as he calls her out into a vulnerable relationship. There is more to this man than meets the eye. He brings with him a life Brigit is not sure she believes in. One that doesn't even exist in her reality. Plagued by visions of past lives, Brigit's trust in a magicless existence is about to be shattered.
Ildanach has been the fairy guardian for centuries. Every few lifetimes, he meets a woman who is the reincarnation of his love and together they can protect the earth. Ildanach thought he had found his love in this century, but she was killed by a rogue fairy from the underworld, taking his hope. Now he has met Brigit, a woman hell-bent on denying anything that she cannot touch in this reality. When he sees the spark of his love in her, he knows she's the one with whom he can stop the dark spirit for good. However, she is dead to the world of magic; too wrapped up in her trials and the darkness that mortal life has given her.
The world is in danger as the lord from the underworld, Arawn, taints mortal souls in order to grow his army of the underworld and stop the guardian and the goddess once and for all.In a battle of life or death, Idlanach must save the mortal world before time runs out and Brigit must decide once and for all if she can believe in something as mysterious as magic.


I think the idea of this story was bigger than the author's ability to relay it. She very clearly wanted to show big emotions and a moving moral dilemma, cast over millennia. But the writing is just too shallow to pull it off. Instead it feels contradictory and stilted. All of the fantasy elements feel secondary to the very simple romance plot. And none of it has the feel or tone to match the awesome cover.
Having said all of that, I did like Idanach and Brigit. It was interesting to see elements of old Celtic lore (or Celtic-like lore) incorporated. Robin was a delight (my favorite character) and the book wraps up nicely (with a bit of an epilogue setting the stage for a sequel). So, I wouldn't call it a total failure, just not as good as it might have been or I'd hoped it would be.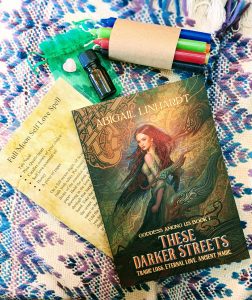 ---
Other Reviews:
Jessica Belmont: Book Tour These Darker Streets Book Review