I signed up to Lana Pecherczyk's newsletter and received a starter pack of her books. It included the prequel novella of The Deadly Seven series, Sinner (which is also an Amazon freebie). I then borrowed book one, Envy, through Amazon Prime.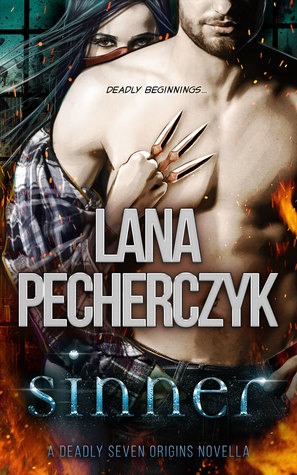 Description of Sinner:
The selfie generation grew up.

And with them, the sin of greed exploded on an astronomical scale. Of course, where one went, the rest were sure to follow. Wrath, sloth, gluttony, pride, envy, lust… all climbed in severity until deadly sin consumed Cardinal City. Violence, murder, and mayhem were only the beginning. To save their city, top scientists created a band of brothers and sisters as deadly as the sins they were destined to fight. But before they were waging a war on crime, they were children born in a lab with no one to look out for them… except a deadly assassin pretending to be a nun and a tortured man running from his past.

Biolum Industries think Sister Mary Margaret is an innocent nun caring for children in their lab, but she has a dark secret: one that could destroy the world, or save it.

Flint Fydler wants the simple things in life, to do his job and to pay off his shameful debt. But no matter how hard he tries to ignore the secret project behind a guarded door at Biolum Industries, and the beautiful and fearless nun who works there, he can't avoid the inevitable fact he is being lied to.

When Flint's mission to reveal the truth uncovers more than he bargains for, Mary bribes him to help with her rescue mission. As their quest draws them closer together, Mary has no choice but to reveal her own deadly secret, and Flint must face the undeniable truth: paying his debt may have nothing to do with money, and everything to do with his heart.
Review:
An enjoyable little prequel that has tempted me into looking into the rest of the series. I wouldn't say it's particularly deep, but the writing is sharp and I liked the characters and overarching plot. That's enough.
---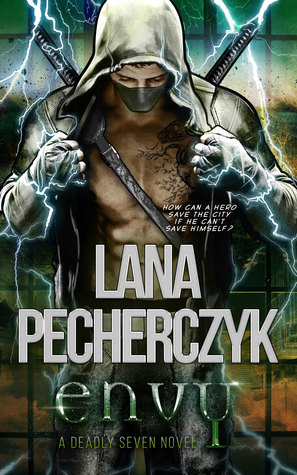 Description of Envy:
How can a hero save the world if he can't save himself?

Crime rages in Cardinal City. The fanatical Syndicate's answer is to be judge, jury and executioner, even if that means destroying half the world to eradicate sin. The only thing standing in their way is a family of fearless vigilantes known as the Deadly Seven.

Created in a lab with his brothers and sisters, Evan Lazarus can sense deadly levels of envy, but when he's blamed for a mass tragedy, it tears him and his heroic family apart. As the Deadly Seven self destructs, Evan loses himself in the city's ruthless cage-fighting scene, slowly falling prey to the sin he was created to fight. His only hope is to find a partner who embodies his sin's opposing virtue, the last thing he expects to find is his soulmate…

Doctor Grace Go almost died in the blast that killed her parents, and learned a valuable lesson: envy eats nothing but its own heart. So she forged a life filled with purpose and now seeks justice for the survivors. When she crosses paths with a fiercely protective but damaged hero, a desire she thought long gone is ignited. But Grace is wary of risking her brittle heart on a disgraced hero, even if she can't seem to stay away from him.

When a figure from Evan's past emerges, in league with the Syndicate, their evil scheme threatens to destroy everything Evan holds dear. Pushed to the limits, he will have to pull his family from the brink of oblivion and become the hero the city needs, or will envy drive him to destroy Grace and his only chance at love and redemption forever?
Review:
Superhero-esque paranormal romance.
This was OK, amusing enough for what it is. The writing is sharp and I liked the characters. But I have to admit that they pretty stock and trade. He's dark and damaged and she's all caring and light that miraculously soothes the chaos of his soul (in this case literally). Nothing new. To go with that, I thought there was some painful predictability and the heroine was too prone to too-stupid-to-live actions for wholly forgive. Having said that, I'd continue the series if I found them at the library or they were freebies, but I'm neither rushing or paying to do so.