I received a copy of T. Kingfisher's Nettle & Bone through Netgalley.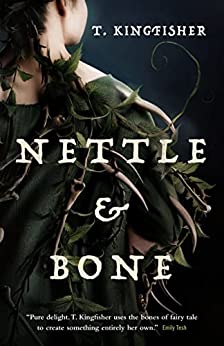 This isn't the kind of fairytale where the princess marries a prince.
It's the one where she kills him.
Marra never wanted to be a hero.
As the shy, convent-raised, third-born daughter, she escaped the traditional fate of princesses, to be married away for the sake of an uncaring throne. But her sister wasn't so fortunate—and after years of silence, Marra is done watching her suffer at the hands of a powerful and abusive prince.
Seeking help for her rescue mission, Marra is offered the tools she needs, but only if she can complete three seemingly impossible tasks:
—build a dog of bones
—sew a cloak of nettles
—capture moonlight in a jar
But, as is the way in tales of princes and witches, doing the impossible is only the beginning.
Hero or not—now joined by a disgraced ex-knight, a reluctant fairy godmother, an enigmatic gravewitch and her fowl familiar—Marra might finally have the courage to save her sister, and topple a throne.

I am just going to have to accept that I am a standing T. Kingfisher fan. I have enjoyed everything I've read by them. I'll admit that this isn't my favorite of their books that I've read—I thought it a little slow at times and sometimes I wanted a deeper conversation about things than we were given—but I sure did enjoy the heck out of it.
So much about Marra—who I am convinced is neuron-divergent—is relatable. She's practical as all get-out and is getting the job done, but she's an angsty, insecure mess the whole time she's doing it. Yeah, I felt that in my very bones.
The romance is super subtle and I adored it. All of the side characters are marvelous and there is just enough absurdity that happens. (I laughed often.) I am sad to be finished and look forward to my next T. Kingfisher book.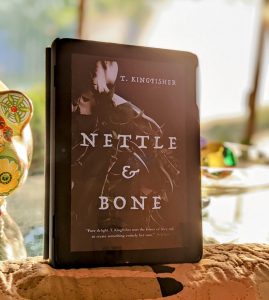 ---
Other Reviews: