I've been on the library waiting list to borrow Gideon the Ninth, by Tamsyn Muir, for a while. My turn finally came and I got to read it. Once I finished it, I put myself right on the waiting list for Harrow the Ninth, expecting to wait another several weeks. But ended up getting the notice it was available later that same night!
---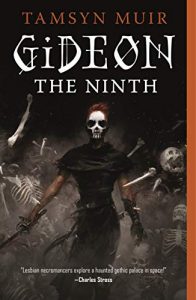 Description from Goodreads:
The Emperor needs necromancers.
The Ninth Necromancer needs a swordswoman.
Gideon has a sword, some dirty magazines, and no more time for undead bullshit.
Brought up by unfriendly, ossifying nuns, ancient retainers, and countless skeletons, Gideon is ready to abandon a life of servitude and an afterlife as a reanimated corpse. She packs up her sword, her shoes, and her dirty magazines, and prepares to launch her daring escape. But her childhood nemesis won't set her free without a service.
Harrowhark Nonagesimus, Reverend Daughter of the Ninth House and bone witch extraordinaire, has been summoned into action. The Emperor has invited the heirs to each of his loyal Houses to a deadly trial of wits and skill. If Harrowhark succeeds she will become an immortal, all-powerful servant of the Resurrection, but no necromancer can ascend without their cavalier. Without Gideon's sword, Harrow will fail, and the Ninth House will die.
Of course, some things are better left dead.

It took me a while to sink into Gideon the Ninth. I was confused for most of the first chapters; it does kind of just drop you in it. However, once I caught on, I really enjoyed it. Gideon is such a character and I loved her. Harrow is a flaming bitch queen for most of the book, but did manage to redeem herself in my eyes by the end. And I enjoyed most of the side characters and the mystery. However, the end…THE END. I am so not OK with the ending! But I can't wait to read book two.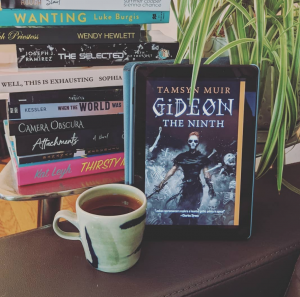 ---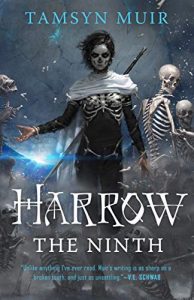 Description from Goodreads:
She answered the Emperor's call.
She arrived with her arts, her wits, and her only friend.
In victory, her world has turned to ash.
Harrowhark Nonagesimus, last necromancer of the Ninth House, has been drafted by her Emperor to fight an unwinnable war. Side-by-side with a detested rival, Harrow must perfect her skills and become an angel of undeath — but her health is failing, her sword makes her nauseous, and even her mind is threatening to betray her.
Sealed in the gothic gloom of the Emperor's Mithraeum with three unfriendly teachers, hunted by the mad ghost of a murdered planet, Harrow must confront two unwelcome questions: is somebody trying to kill her? And if they succeeded, would the universe be better off?

It took a long time to get into this look—even longer than in book one, which took a while. I think it was a full 25% before I had any idea what was going on. To be fair, neither did Harrow and that's sort of the point. But a quarter of an almost 500 page book is a long time to be confused (and without Gideon). However, I stuck with because I so enjoyed book one. And once it all finally did start making sense…or a sense of sorts, I really did enjoy it. I just love the snarky sarcasm in both the dialogue and the narrative. I'll definitely be looking for book three.