I picked up a review copy of Taylor Aston White's Kiss of Darkness through Netgalley. It was also featured over on Sadie's Spotlight. You can hop over for an excerpt.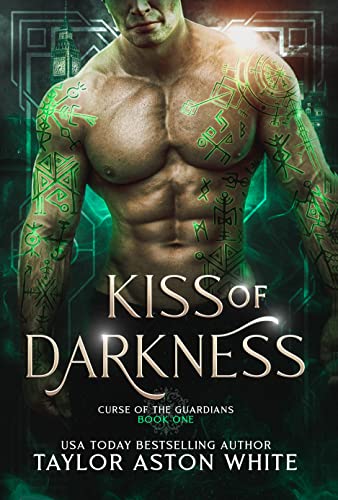 He despises her… almost as much as his beast craves her.
Kyra's seen and survived the worst things imaginable, all because of the magic she was born with. Trapped by her secret, she has no choice but to serve Councilman Gallagher or risk everything she has tried so hard to build. Because despite black magic being banned, her very survival depends on it.
When she's commanded to summon a Daemon, a Breed notorious for their corruption and brutality, she's torn between keeping her secret and doing the right thing.
Xander's hate for black witches was notorious, but nothing frustrated him more than the one witch that brings trouble with a capital T. With dark amber eyes, and a controlled strength that fascinated his beast – the monster he's cursed to share a soul – Xander will do anything to push her away.
So when he's forced into protecting her, he must put aside his prejudice and ignore his growing desire that's an insult to his past.
Because he's had an entire childhood to remember why you can't trust black witches.
And he definitely can't trust Kyra Farzan.

This was fine, not exceptional in any way, but entertaining enough. Before I get into any specifics I have to have one major gripe, and it's one I feel like I'm making constantly.
This book is very clearly labeled Book 1 of the Curse of the Guardians series. That's why I chose to read it. However, I made it about 20% in and put it aside, went over to Goodreads, and read the blurbs of the author's other books to find out what Curse of the Guardians is a spin-off of. Because at that point, I was 100% sure that Kiss of Darkness is one. The characters had met previously, previous events are referenced, the world-building was sketchy (as if I was meant to already know it), there was a strong couple that was clearly from another story-line, there were even internal jokes between characters that the reader was obviously meant to understand.
Point blank, no argument, if I can tell a book is a spin-off because I can feel previous books are missing, the book does not stand alone well enough to be a new series. And in those scenarios I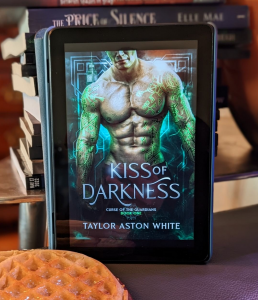 call the 'book 1' label a lie. I am super tired of having this happen.
OK, that's my big gripe. Outside of that, the book is fine. I liked that Kyra is strong, even as she's put in impossible situations. I never really took to Xander though. He was just kind of a bland, generic paranormal romance hero. But the writing is easily readable. And while there wasn't anything that stood out as stellar in the plot, it wasn't all out bad either.
---
Other Reviews:
Archaeolibrarian: Kiss of Darkness
Book Him Danno: Kiss of Darkness