A.J. Vrana's The Hollow Gods' sequel, The Echoed Realm, was featured on Sadie's Spotlight a while back. The post included some absolutely gorgeous art for the series and I've seen even more since then. (I mean check out the covers of these special edition copies!) Beautiful! So, I borrowed an audio copy of The Hollow Gods through Hoopla to give the series a shot. It was narrated by Eva Kaminsky.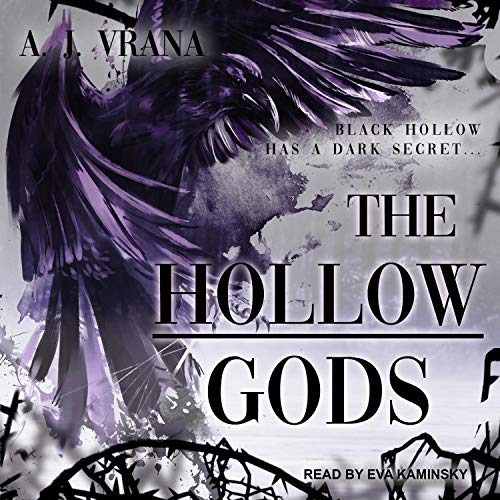 Black Hollow is a town with a dark secret.
For centuries, residents have foretold the return of the Dreamwalker—an ominous figure from local folklore said to lure young women into the woods and possess them. Yet the boundary between fact and fable is blurred by a troubling statistic: occasionally, women do go missing. And after they return, they almost always end up dead.
When Kai wakes up next to the lifeless body of a recently missing girl, his memory blank, he struggles to clear his already threadbare conscience.
Miya, a floundering university student, experiences signs that she may be the Dreamwalker's next victim. Can she trust Kai as their paths collide, or does he herald her demise?
And after losing a young patient, crestfallen oncologist, Mason, embarks on a quest to debunk the town's superstitions, only to find his sanity tested.
A maelstrom of ancient grudges, forgotten traumas, and deadly secrets loom in the foggy forests of Black Hollow. Can three unlikely heroes put aside their fears and unite to confront a centuries-old evil? Will they uncover the truth behind the fable, or will the cycle repeat?

I liked this quite a lot. I'll admit it wasn't quite as intense as I'd expected, but I enjoyed it all the same. It was very atmospheric.
I liked the way Kai never truly tried to act human and how Miya accepted him for it all the same. And I liked the way Miya showed vulnerability, but also wasn't a pushover and Kai appreciated that about her. I understood Mason's difficulty and obsessive need to find answers. Though I thought his reluctance to believe lasted well past when it should have.
The prose is a little on the purple side. But I have a pretty high tolerance for that, often enjoying writing others complain about being too full of adjectives, similes, and metaphors. The story also wrapped around itself in a pleasant way, coming full circle and concluding nicely. But I never quite grasped The First's motives, Madrix's but not The Firsts. (I'm not certain I spelled that name right, since I never saw it in writing.)
All in all, I plan to read the second book too. But I'm not leaping straight in at the moment.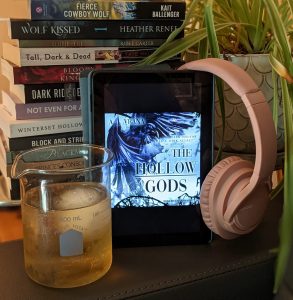 ---
Other Reviews:
Blog Tour Review: The Hollow Gods by A.J. Vrana
The Hollow Gods by A. J. Vrana – Review & Blog Tour
[Blog Tour] The Hollow Gods by A.J. Vrana – Atmospheric, Dark, and Mysterious!