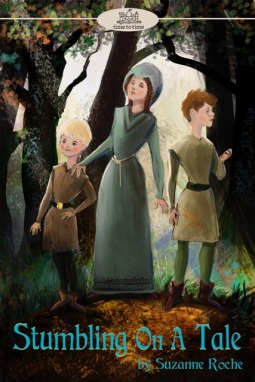 Lately, I've been making a concerted effort to read all the Middle Grade books that I've shelved with the intention of reading before passing them to my children (but basically forgot about). Today I finished Stumbling on a Tale, by Suzanne Roche. I won it through Goodreads.
Description:
It turns out the trips back in time haven't ended for Peri, Henry, and Max. In the second book in the TIME TO TIME Series, the children find themselves right in the middle—the Middle Ages that is. And this time they're lost in a forest, where they stumble upon a group of travelers who seem to be long on medieval tales but short on helpful information.
Peri and her stepbrothers are sure they know what they have to do to get home though, so there won't be any problems this time. End of story.
Okay, maybe not.
It turns out everything Peri and the boys know is wrong and nothing is how they expect it to be. So when none of their ideas work, they have to rely on a peasant chaperoning his pig, a maiden searching for her dog, a dragon-hunting page, and an unappreciated sorcerer to find the answers. Only everyone seems to be better at losing things than finding them.
At the end of the book, you can get your hands on history—make medieval gingerbread, learn to play Nine Man's Morris, and solve a riddle from the 10th century, plus more!
Review:
I found this an interesting miss-mash of a book. It's eminently readable (even if the editing hitches on occasion and it looks like it's been formatted in Word *shudder*). And it's obviously intended to introduce and educate children on aspects of the Middle Ages, the story being the vehicle to drop facts in their laps. It mostly works too.
Where I think it falters is in the pictures. Not the pictures themselves, but that they're pictures with captions. They seem out of place in a fictional story, as opposed to a textbook. It requires quitting the story to read the caption, which disrupts the flow. I found it really distracting. The only way I actually see this working with a child reader is the time-honored practice of not reading the caption at all.
Having said that, as with so very many books with ignored caption, I can see this doing well in a school library. And for the record, it stands alone just fine. I had no problem with the fact that I hadn't read book one, Making it Home.
Edit: I noticed, when I cross-posted this review to Amazon, that Making it Home is a freebie. So, it would be easy enough to pick up.