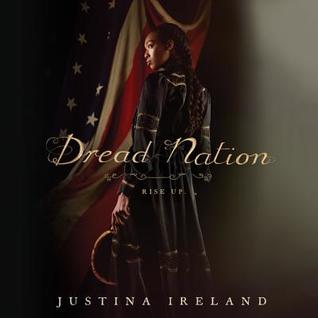 I borrowed an audio copy of Justina Ireland's Dread Nation through the library.
Description from Goodreads:
Jane McKeene was born two days before the dead began to walk the battlefields of Gettysburg, Pennsylvania—derailing the War Between the States and changing the nation forever.
In this new America, safety for all depends on the work of a few, and laws like the Native and Negro Education Act require certain children attend combat schools to learn to put down the dead.
But there are also opportunities—and Jane is studying to become an Attendant, trained in both weaponry and etiquette to protect the well-to-do. It's a chance for a better life for Negro girls like Jane. After all, not even being the daughter of a wealthy white Southern woman could save her from society's expectations.
But that's not a life Jane wants. Almost finished with her education at Miss Preston's School of Combat in Baltimore, Jane is set on returning to her Kentucky home and doesn't pay much mind to the politics of the eastern cities, with their talk of returning America to the glory of its days before the dead rose.
But when families around Baltimore County begin to go missing, Jane is caught in the middle of a conspiracy, one that finds her in a desperate fight for her life against some powerful enemies. 
And the restless dead, it would seem, are the least of her problems.
Review:
It took me a while to get into this one, but once I did I really enjoyed it. It can be uncomfortable at times, but it's also a worthy reminder of the overt evils of our recent past and the myriad ways it's still evident in society today. While the Survivalist in the story speak openly about their supremacist beliefs, I whole heartedly believe it realistic of the sorts of arguments slave owners used in their time and modern day racists mimic today. It would be hard to read this book and not relate to Jane's rage and indignation. 
I also simply really liked Jane. I liked that she's self-reflective and honest with herself (even about the fact that she sometimes lies to herself). I liked that she's smart, resilient and loyal. She made a superb heroine. 
On a side note, I have reached an age where I actively avoid books likely to contain rape scenes. I've just gotten truly intolerant of it in my entertainment. There are times it's instrumental to plot, but FAR too often authors toss it out lightly and I just can't with it anymore. So, when it became apparent that Jane and Kate were going to be placed at the mercy of a group of men, I prepared myself to grit my teeth through the obligatory 'woman is victimized' scene. I am happy to report it never happened. So, if you're like me and try to avoid such things, know Ireland go there. A plus in my mind. 
All in all, I happily recommend this book. I know the fact that it has zombies in it will put a lot of people off, but I hope people do give it a chance. And if you're interested in audio books, Bahni Turpin did a great job.