I accepted a review copy of Christine M. Germain's The Brother's Curse through R & R Tours during it's book tour. It was also featured over on Sadie's Spotlight. You can hop over there for author information and a giveaway.
A year after the brutal death of her parents, Crystal Francois moves back home to the eerie small town of Lakeview Falls. When one of her neighbors goes away abruptly leaving his home to be watched by a young man named Jason Warwick, Crystal finds herself falling for him instantly because of his charming ways and dashing good looks.
Two weeks before her 25th birthday, she receives a rare antique purple amethyst stone necklace that is left for her by her late mother; A necklace with a deadly past and horrible consequences when being worn. She finds out that wearing the necklace causes her and her friends to be the target for two sadistic tyrannical evil 18th-century old Shapeshifter brothers who will not stop till they find her and retrieve the chariot stone necklace that holds their father and 24 demonic Shapeshifters captive.
When young men from town go missing, and bodies showing up eaten or skinned alive. Lakeview Falls is on high alert. It doesn't take long for Crystal to discover that the new guy in town isn't who he claims to be or if he is even human.

It brings me no joy to give a book a poor review, especially a book by a new author. And I'll say up from that this book has many good reviews. I appear to be in the minority here. But the simple fact of the matter is that I do not think that this book was ready for publication. I think it has an interesting premise and cast of characters, but it needed to pass through the hands of both a copy and developmental editor before publication.
What's more, while I very much appreciated the diversity in the cast, there is some stereotyping going on and—personal opinion here—I'd have rethought the present tense narrative. Put simply, the book is rough and to try to name all the ways would feel like an attack. So, I'm going to leave it at 'the book needed significantly more editing than it appears to have received.'
However, I do want to reiterate that I think it has an interesting kernel of an idea and I appreciate that it's the men who are largely the nameless victims. That might seem an odd thing to comment on. But if you really stop and think about all the books you've read, we consistently culturally paint women in the victim role. And, unless you are making a concerted effort to avoid it, that shows in the media we all consume. I appreciate that Germain flipped the tables here.
Lastly, as just an FYI, this is dually listed under the paranormal and horror genres. I would call this much more horror than paranormal.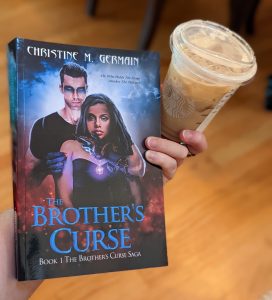 ---
Other Reviews: