I borrowed a copy of The Death of the Necromancer (by Martha Wells) from the library.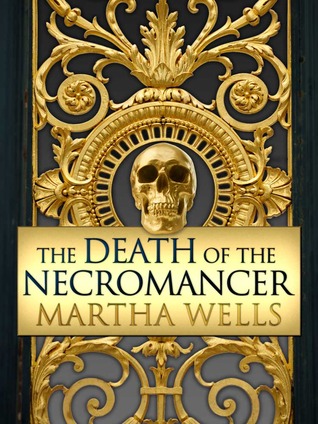 Description from Goodreads:
Nicholas Valiarde is a passionate, embittered nobleman with an enigmatic past. Consumed by thoughts of vengeance, he is consoled only by thoughts of the beautiful, dangerous Madeline. He is also the greatest thief in all of Ile-Rien. Under cover of darkness on the streets of the gaslit city, he assumes the guise of a master criminal, stealing jewels from wealthy nobles to finance his quest for vengeance: the murder of Count Montesq. Montesq orchestrated the wrongful execution of Nicholas's beloved godfather Edouard on false charges of necromancy, the art of divination through communion with spirits of the dead, a practice long outlawed in the kingdom of Ile-Rien.

But now Nicholas's murderous mission is being interrupted by a series of eerie, unexplainable, fatal events. Someone with tremendous magical powers is opposing him, and traces of a necromantic power that hasn't been used for centuries appear. And when a spiritualist unwittingly leads Nicholas to a decrepit old house, the truly monstrous nature of his peril finally emerges.
Review:
What if The Count of Monte Cristo merged with The Adventures of Sherlock Holmes in a magical pseudo-victorian city? It would be great, right? Right. It honestly was. I will admit that the was slow, being almost 550 pages long. But I so enjoyed the characters and the unhurried development of the mystery that I totally overlooked it in the reading.

I appreciated Wells' willingness to allow side characters diversity and autonomy, even the female ones. (Though I have to admit Crack was my favorite. I always love the loyal, rough-hand, bodyguard types.) There was humor and both the characters and the reader had to accept that not everyone (even the good guys) always get what they want.

When I picked this book up from the library I didn't realize that it is part of a series. But being set 100 years after the first book, I didn't feel the lack of reading book one at all. But I'll be happy to go hunt up book three. Wells is simply becoming one of my favorite go-to authors.