I borrowed an audio copy of Sarah Penner's The Lost Apothecary through Hoopla. It was narrated by Lorna Bennett, Lauren Anthony, Lauren Irwin. Soooo, Lorna, Lauren and Lauren. The alliteration makes me happy.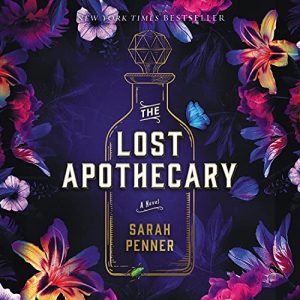 A forgotten history.
A secret network of women.
A legacy of poison and revenge.
Welcome to The Lost Apothecary.
Hidden in the depths of 18th-century London, a secret apothecary shop caters to an unusual kind of clientele. Women across the city whisper of a mysterious figure named Nella who sells well-disguised poisons to use against the oppressive men in their lives. But the apothecary's fate is jeopardized when her newest patron, a precocious 12-year-old, makes a fatal mistake, sparking a string of consequences that echo through the centuries.
Meanwhile in present-day London, aspiring historian Caroline Parcewell spends her 10th wedding anniversary alone, running from her own demons. When she stumbles upon a clue to the unsolved apothecary murders that haunted London 200 years ago, her life collides with the apothecary's in a stunning twist of fate – and not everyone will survive.


I'm going to be honest; this book probably deserves more praise than I can heap on it. I thought it was well written and, as a middle-aged, married woman, who (like the character) gave up several educational dreams in exchange for stability, has faced the difference between happiness and contentment, and has consequently also just applied for to return to graduate school, I can honestly relate to A LOT of what Caroline is dealing with in the book. So, I can speak to realism.
But…BUT…I'm normally a binger. I start a book and want to finish it all in one go. Doesn't matter if it is a physical book, ebook, or audio, I like to read things all together. Despite that, I checked this book out from the library, had to renew it, and then almost had to renew it a 2nd time before I managed to actually finish it. It just wasn't nabbing my usually very easily grabbed attention. I struggled to force myself to pick it and sit with it long enough to reach the end. Maybe it was just too close for comfort in some aspects, but maybe also I was just bored. Regardless, I think the problem was 100% me not the book.
I do think it has a beautify cover (that's why I picked it up) and I'm endlessly amused that the narrators are named Lauren, Lauren, and Lorna. (Yeah, I'm easily amused sometimes.)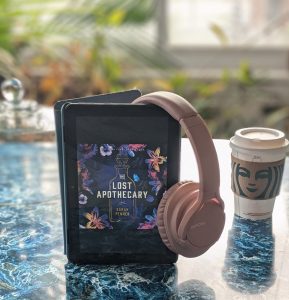 ---
Other Reviews:
Review: The Lost Apothecary by Sarah Penner