Earlier this year, Thiago Abdalla's A Touch of Light was featured over on Sadie's Spotlight. You can hop over there for author information and a fun interview with him. I ended up with a copy of the book, as part of the promotional information, and decided to give it a read.
How far would you go to resurrect someone you love? Would you change who you are to show you belong?
The world of Avarin is tearing itself apart. The Domain worships life, its rulers lead eternal lives and death is a shame that must not be mourned. For the clans to the south, however, death is all that keeps the Earth alive.
But old enemies are rising.
A madness spreads throughout the Domain, and Lynn, a rogue griffin rider in hiding, might be the only one who knows how to fight it, while Adrian, a Domain prince seeking to bring his dead loved ones to worthiness, leads the Domain armies against the madmen.
The clans suffer a madness of their own. As the land itself begins to wither away, Nasha, a cursed hunter and lifelong outcast, desperately fights for belonging in the Ronar, while her clan seeks to heal the land.
Old beliefs will be challenged as the people of Avarin fight to save it… before death comes for them all.

I think how much a reader likes or dislikes this book will come down to how comfortable they are with delayed gratification. Because it has three interesting main characters, a big complex world, subtle magics, political intrigues, and mystery. Plus, it lets the reader figure a lot out on their own, while providing enough clues to let them do so. But it's also slow (despite quick changes of fate at times), doesn't answer many of the questions it presents, feels a little bogged down in battle scenes at times, as well as vague on some details, and ends on a cliffhanger. (The author says he plans at least four books for the series, but book two isn't out yet.)
All in all, I'd be willing to read the next one—Abdalla's writing is lovely. But I didn't absolutely love this either. I felt like it took me a really long time to get through it, as if it was, in fact, longer than it truly is.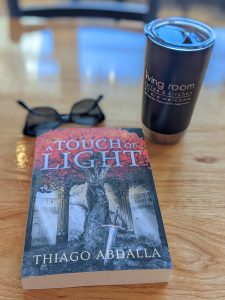 ---
Other Reviews: