I had several loads of laundry to fold yesterday. So, I borrowed an audio copy of Kim McDouGall's Valkyrie Bestiary through Hoopla. It included the prequel Three Half Goats Gruff (which I actually have a Kindle copy of) and Dragons Don't Eat Meat and was narrated by Hollie Jackson.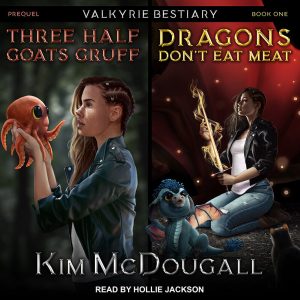 ---
Three Half Goats Gruff:
Is he a vampire? A shifter? Something worse? Thrown together to save a middle school from an infestation of satyrs, Kyra and the mysterious Captain of the Guardians share one heart-stopping night.
Critter wrangling rule #4: There isn't much you can't kill, confuse, or disgust with a can of bug fogger.

At only 45 pages, this is was only a taster of the series to come. But it was enough to know I'd like the main character, Kyra, and the writing of the series at large. Plus, how cute is that cover!?
---
Dragon's Don't Eat Meat:
Someone is killing dragons. And the killings point to a civil war brewing among the fae.
When Kyra finds an abandoned baby dragon, she doesn't want to bring him home. But until she can hunt down his thunder and stop the dragon killers, she's on babysitting duty.
As a pest controller with a soft heart, Kyra already has an apartment full of rescues, including a basilisk who thinks he's a turkey, a banshee nanny, and even a pygmy kraken. She might take care of them, but they also fill her need for family. And when that family is threatened, she'll risk everything to save them. She'll even join forces with the handsome and irritating captain of the city's vigilante Guardians, who never fails to be around at her most undignified moments.
Along with a quirky cast of misfits and unruly critters, Kyra leaves the safety of Montreal Ward and travel through the dangerous Inbetween—the land beyond the protected city states, where magic is the only rule of law—to reunite the lost dragon with his thunder and stop a new and sinister force from invading their home.


I enjoyed this. I liked Kyra and her menagerie quite a lot. The world was interesting. I thought the writing readable and the narrator did a good job with the audio version. I didn't feel like I got to know Mason as well as I'd have liked and at times the adventure felt a little go here-do that random, while the overarching plot a little predictable. Plus, in a post-apocalyptic world where travel was dangerous and limited and fossil fuels were no longer allowed, there seemed to be an awful lot of people not from the area in the area (lots of individuals with Welsh or Irish accents for example) and I wondered how they got there. Magic, maybe, but it wasn't addressed. I still enjoyed the experience quite a lot though and will continue the series. Though not immediately, as I've other commitments to attend to.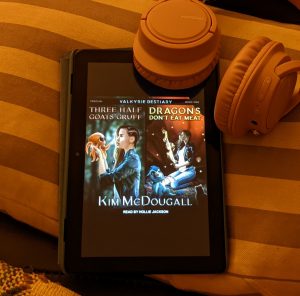 ---
Other Reviews:
Books and Pals – Review: Dragon's Don't Eat Meat