I picked up an ARC of Rosie Wylor-Owen's Valkyrie Cursed through Booksprout.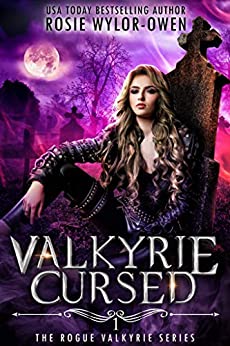 Rowan McQuaid should be dead.
Valkyries don't survive vampire bites. But after releasing a tomb full of rabid vampires, Rowan is still breathing. Her survival means one thing: somehow, she is immune.
When witches are slaughtered in their homes, Rowan discovers the vampires are hell-bent on killing the descendants of those who imprisoned them. And every drop of blood spilled is on her hands.
Forced to team up with the mysterious vampire Nate Hallewell, Rowan must find and stop the rogue vampires before they kill every witch in south east England.

I thought this was quite entertaining, but nothing extraordinary. A perfect middle of the road read. I liked Rowan, Nate and crew. I appreciated the slow-slow burn of the maybe-future-relationship. The book is easily readable and I don't remember any big editing mishaps.
But I also didn't think the world particularly well developed. I, for example, couldn't really pick out the lines between some of the species. What made a witch and a valkyrie different, for example, other than culture? How aware was the rest of the world of paranormals? I have no idea, etc. Nor did I think Rowan's the family history adequately utilized. Though I did recognize that her and her brother's situation mirrored Nate and his cousin's.
All in all, I like it. I'd read another. But I'm not running out to buy it. (Well, I don't think a next exists yet. But you get the idea.)