I've just come home from a week and a half road trip to visit my family. My husband, children and I spent a week in Florida and then three days in Tennessee. This enabled me to see my mom and her husband, my sister and her family and my aunt and uncle, which 100% of my immediate family. (My in-laws visit us in just under two weeks. So by the end of the summer I'll have seen everyone.)
As you can imagine, it was was a busy ten days. But there was quite a bit of driving involved, so my Kindle got a good workout and I accomplished a decent bit of reading. I managed internet access once and went ahead and wrote several reviews. They were for the books I'd read on the fourteen hour drive from Missouri to Florida and then in the first half of the week there. They were: Magic Bitter, Magic Sweet, The Library, the Witch and The Warder, Uncommon Grounds, and Revenge of the Bloodslinger. Feel free to check them out.
After that one crack at a computer, I didn't get to update the blog at all. Rural Tennessee is beautiful, but it's not great for speedy internet service. In the time away from modern technology I read Marine Biology, Thornfruit, Knight of Ocean Avenue and The Moonling Prince. Plus one that I didn't finish (no one should ever write in first person present tense).
Rather than go through and write another four review posts, I thought I'd go ahead and review the four I haven't yet done all in one go. Though I don't plan to make them particularly detailed.
My husband jokes that I have 'waitress brain,' meaning I can remember a million details about something for a short amount of time. For example, when I waited tables during university, I could take the order of an eight-top (including substitutions) and never write anything down. But if you asked me two seconds after I put the order in what they wanted, I couldn't tell you. I only remembered for as long as I needed to.
I'm a bit the same for books. I remember all the details until I write the review and then poof, they're gone. And if I don't write a review right away, they fade. We're in the fading now. Sorry, but that's just the reality of reading books back to back and THEN trying to review them.
Be that as it may, I do want to review them. So, here we go.
---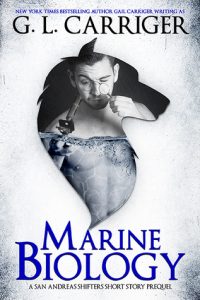 Marine Biology
, by G. L. Carriger
This was cute and fluffy. Very much in line with the rest of the series. I just love Carriger's sense of humor. Being a novella, it's short of depth though.
---
I recall really liking the characters, the world and the storyline. But also feeling like a lot of things happened too conveniently and not enough really wrapped up by the end. Having said that, I really wanted to know more. I'll be looking for the next book. Plus, I love the cover. So pretty.
---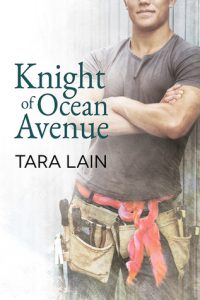 Knight of Ocean Avenue
, by Tara Lain
This one was another one designed to be cute and fluffy, and it was. But I  had a lot of problems with the presentation. One of the characters is effeminate and he's called girly several times. Which might be alright if girly wasn't synonymous with bad in the context used. Similarly, Billy, who is just discovering he's gay, keeps saying how much better men are (in sex). As a woman, I have no problem with him preferring men, but I don't know why it has to be phrased as men being better all around. Lastly, problems were repeatedly presented and then miraculously solved, such that the happily ever after felt too easy. So, it was just so-so for me.
---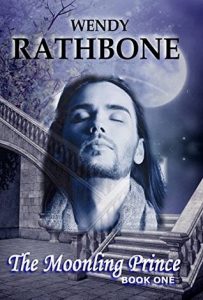 The Moonling Prince
, by Wendy Rathbone
Meh. Not bad all around, but not much to it either. I liked both of the characters, though I thought Arulu's character inconsistent. Not to mention he spent 20 years in debilitating pain and seemed to have no resulting mental trauma. Additionally, I really would have liked to see the relationship develop more. The writing was pretty though.
---
So, there you go, four more books read and off my kindle. I'm halfway through another one that I started on the drive home, this afternoon. But I'll give it it's own post when the time comes.