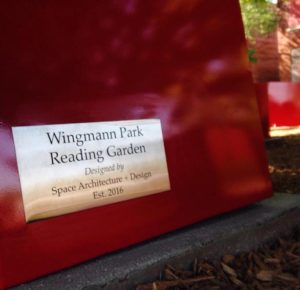 Last week, one of my best friends took me to Wingmann Park in Old North Saint Louis to see the urban installation her daughter designed and fabricate for (what I think is) the first urban reading park in the city. I cannot tell you how much I love this idea. It is so right up my alley it's almost painful.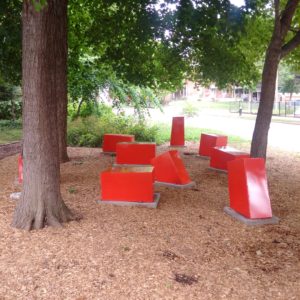 Two years ago, the neighborhood installed a Little Free Library to encourage neighborhood children to read. (There are some lovely pictures of it here.) But there was nowhere for them to sit while they did so, or when the neighborhood held book club.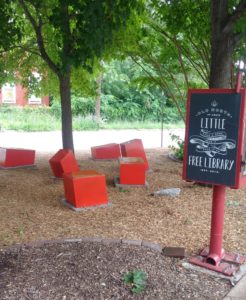 Thus was apparently born the idea of a sculpture that would double a seating, and a number of amazing people got together, found funding, found volunteers, found donations and made it happen. I won't try and list all those wonderful people. I'd only make a hash of it, but suffice it to say I was suitably impressed by their generosity, dedication and success. I LOVE to see communities come together to make this sort of thing work. It's such a reminder of how enduring and endearing the human spirit really is.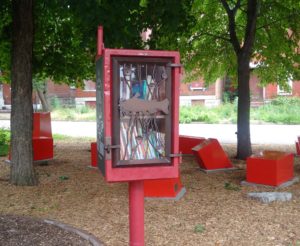 Well, today was the dedication ceremony and since I adore this idea so much, have a personal (if tenuous) connection to the artist, and it was a surprisingly moderate day I took my girls (5 & 8) to listen to the speeches, see the ribbon cutting, applaud the efforts, try out the seating,  and do some outdoor reading. It was really lovely. I mean really, really lovely. 
And while my eight year old is perfectly willing to run off and read to herself, my five year old needs a little help. So, she and I read Scarlett's Journey Home, by Mary Ellen Bryan (it was even signed), which means I get to include a review and stay on theme for the blog. Bam!
Description from Goodreads:
Sweet Scarlett Penguin travels far to find a place where she belongs. Join in on the adventure as Scarlett makes new friends, discovers distant lands, and learns to look deep inside her heart where she uncovers her own unique spark along her journey home.
Review:
This was a sweet little book about finding home, learning to trust, recognizing that just because someone looks different doesn't mean they can't become your friends, the warmth of the human heart and the making of community (especially apropos for our morning). Easy to read, pictures that kept my five-year-old interests and ended on a fluffy feel good note.