I accepted a review copy of Zeus, by Carly Spade, through Literary Bound Tours.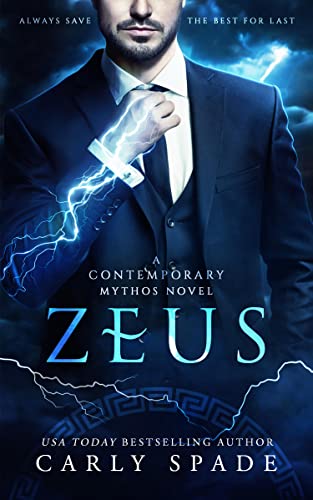 A god-king disguised as a criminal defense lawyer…
Zeus/Zane, King of the Greek gods, holds the world in his palm in both his mortal and godly form… until Hera leaves him, forcing him to uphold Gaea's clause: There must always be a Queen, or he loses his title and part of his power along with it. Time is short. Too bad the one woman he has his sights on wants nothing to do with him. Or does she?
An empath criminal prosecutor…
There's nothing Keira Bazin dislikes more than defense lawyers. So when she discovers Zane Vronti, one of New York's finest, has been brought in on her newest murder case, it's anything but good news. Tensions flare as the two immediately butt heads, but there's something about Zane she can't put her finger on. His emotions are the strongest she's ever felt–borderline overwhelming. Power. Lust. Command. Can she fight her growing attraction for him? Does she want to?


Meh, this was fine, I suppose. The writing/editing worked. There wasn't really anything wrong with it. But I find that I didn't love it. I didn't particularly enjoy the beginning, because Zeus was just so smarmy. I liked the middle well enough, as he dropped some of that act. And then I disliked the end (just about everything after the wedding) because it was just too pat. She suddenly knew how to use her powers with no adjustments. She stepped into her role as goddess and queen (over significantly older, more experienced gods/goddesses) with no notable insecurity of learning curve, etc. And, IDK, I guess it just departed too far from the known Zeus of mythology. All in all, it was fine. I just think maybe I wasn't quite the right reader for the book. But, hey, if you like the show Lucifer, I bet you'd like this a lot.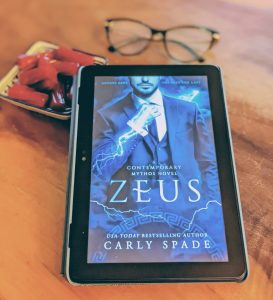 ---
Other Reviews:
Elle Cheshire: Zeus, by Carly Spade