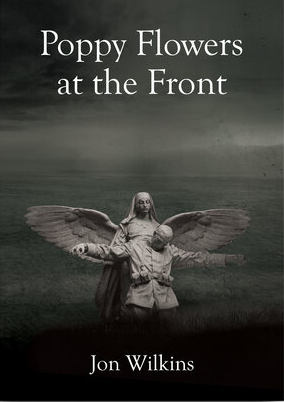 I accepted a review copy of Jon Wilkins' Poppy Flowers at the Front through Damppebble Crime Blog Tours.

1917: with her father in the British secret service and her brother Alfie in the trenches, under-age Poppy Loveday volunteers against her parents' wishes to drive ambulances in France. We follow her adventures, racing to save wounded men driven to the Casualty Clearing Station, and back to the Base Hospital.
During one battle she finds Élodie Proux, a French nurse, at a roadside clutching a dead soldier. Poppy rescues her. Élodie becomes her dearest girl as they fall in love.
Poppy and Élodie encounter frightening adversaries at the Western Front as well as away from it during the closing weeks of World War One.

While it's well known on the continent, I'll give a quick little FYI for American readers. Poppies are worn on Remembrance Day (much like our Memorial Day) in honor of fallen soldiers. That should help in understanding the title.
There is much to appreciate about Wilkins' Poppy Flowers at the Front. I very much liked Poppy as a character, Élodie too, though we get to know her far less than Poppy. Their young romance was very sweet and that contrasts well against the travesties of war. Wilkins' does an excellent job making the pointlessness and devastation of war feel real, without steeping the reader in gore. And I adored Poppy's relationship with her family.
However, I also felt the book lacked a central theme and/or plot-line. It felt very much like it picked up one random day and the reader follows until the book ends on another random day, and random things happen randomly during that time. I also might quibble with it being categorized as a "crime thriller." That wouldn't be the genre I'd put it in. Lastly, the version I read really needed another editing pass. All in all, however, not a bad read and not one I'd hesitate to recommend.