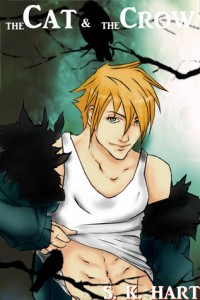 During the last big clearance event I grabbed S. K. Hart's m/m romance, The Cat & the Crow, from Smashwords. 
Description from Goodreads:
A dark romance between two unlikely male characters. The recent death of Tarro's wife was not only sudden, it was inconvenient. Being forced to mourn for a woman he never truly enjoyed, he accepts an offer for company that only ends up leading to more trouble. With a reputation for being able to ruin anything, he starts to wonder if he's ruining his new house guest, or perhaps himself.
Review:
Before I even read the first page of this novel it had two important things going for it. I secretly love m/m stories and I am a closet manga addict, so the very yaoi-ish cover attracted me immediately. I am thrilled to say that it lived up to my expectations, exceeded them even. I read 90% of it with a ridiculous silly grin on my face, teared up more than once, had to get myself a quick glass of ice water and return to it again and again (whew), then eventually had to admit that the whole thing made my heart hurt. Tarro's life isn't an easy one to face. It is definitely cringeworthy. But every painful, horrible thing that happens in this book is made up for in the wonderful character that is Nerin. *swoon* Yes, he and Tarro have turned me into a sad little fangirl.
The book is told in first person, from the POV of Tarro. I'm not generally a fan of first person narratives, in fact I kind of hate them. But I have to admit I enjoyed it here. Tarro had such a fantastically sarcastic and jaded tone/voice that it was a pleasure to read. I also liked his blatant honesty, especially about himself and his own proclivities.
I read a lot. I write a lot of reviews. But I rarely rave. I rarely give unadulterated praise. But I am officially declaring myself an S. Hart fan. If you enjoy yaoi or M/M romances (and honestly I would only recommend this if you do) this is one worth picking up.
☆Here's a hint too. If you check the book out on Smashwords you'll find a little free extra story too. Tarro and Nerin do Christmas…and toys.