I received an audible code for a copy of Roxie Ray's A Bride for the Alien King.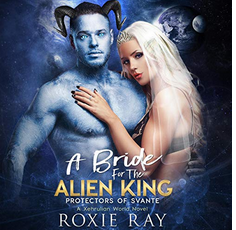 Description from Goodreads:
A fated mate is a rare gem … one I never thought I'd find.

With fifteen males born to a single female, women are my people's most precious resource, one we're in dire need of replenishing. And Earth is just the place to do it. Arranged matings are the only way we can survive, and as king I must set an example.

But I never thought I'd meet her.

One look at Rosa and I know she's meant to be my queen. She's nothing like I imagined, and more than I could ever dare wish for. But humans have only just learned that aliens exist, and I would surrender my kingdom before I forced her into a relationship she doesn't want.

Time grows short as ancient enemies close in on my home planet, and if we don't transport our volunteer mates quickly we will run out of time.
Review:
This was tolerable. It felt pretty formulaic though. Even worse, it very much felt like the heroine's thought process went like this:

"This is horrible. This is taking advantage of the poor. This is human trafficking"
"I'm a king. You'd be queen."
"Oh, sign me up."

There was legitimately exactly that much interaction between her meeting the alien and changing her tune and flouncing off to an alien world. Much of the rest of the book was like that too. Ray hit the expected plot points but didn't seem to put any real effort into letting it develop naturally. There was very little consistency in the technological level of the alien species. There was a distinct lack of other (non-servant) woman in the book. Even if they are born only 1-15, they should exist. And apparently, despite ostensibly being warriors and running a kingdom, the aliens have no concept of security. They let themselves be outplayed, tricked, beaten, and invaded far too many times to be believable. (See the statement above about needing to kit the expected plot point.)

All in all, not a winner for me. But the writing itself seems fine and the narrator did a fine job.

On a side note, what the hell is that cover? Beyond just being horrible in general, if you're going to put characters on a cover, at least make an effort to make them look right. He is described as olive-toned, with scales and no horns. She's a brunette.