I received an Audible code for a free copy of J.F. Holland's A Wolf Is Not Just For Christmas. It was a perfect addition to my Christmas Reading Challenge.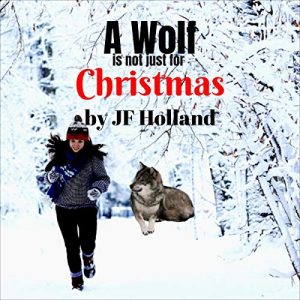 Syd Shepherd doesn't do holidays – not since losing so much just before Christmas 3-years ago. Instead, she spends her holidays alone in the wilderness away from the celebrations and pitying looks from friends and her co-workers at Carter Marketing.
This year, against her better judgement, she attends the Christmas works party. After her boss Riley Carter kisses her under the mistletoe, she's running scared to the only place she finds solace – her cabin.
Hearing pained cries – even alone and as remote as she is at the cabin – Syd can't ignore a hurt animal somewhere out there in the cold and snow. To her surprise, the animal is a wolf with a damaged leg, but with no way of calling for help and a flat tire, she's his only hope. Taking the wolf in, Syd tries to heal him and in turn finds he helps her too.
However, what is Syd going to do about her new four legged friend when it's time to go back to civilisation?
After all, a Wolf is not just for Christmas…

I think whether people like this book or not will come down to personal tastes.The characters are likeable and the writing is readable. Watching Syd unthaw was sweet. It even has the requisite "It's a Christmas miracle" ending. But I can't help looking back at it and recognizing that the two characters who are supposed to be fated mates almost literally don't speak for the whole book. What kind of romance is that?The reader doesn't get to see them fall in love AT ALL.
He's a wolf and she doesn't know he's a shifter. So, while he may have gotten to observe her, she didn't have the same opportunities. They didn't get to know one another even a little bit, even by the end of the book. There was no spark between them because there was almost literally no them for there to be a spark between.
The only sex scene happens while she is asleep (consent issues anyone?) and there is no build up to it. And then when he finally was human again, he stormed off in a petty huff before she'd even had time to get her head around the existence of shifters. It was absurd. Lastly, I didn't see any reason why, after Syd idolizing her dead fiance for the whole book, the author would then go and undermine the importance of their relationship at the end.
I have to address the narrator, Michael Sharp, too. He did a fine job. But, in my opinion, he was the completely wrong narrator for the book. For one, the book's main character is female. So, why was a male narrating her story? It created a lot of unnecessary distance between the reader/listener and her. Secondly, he sounds like an older man. (I don't know if he actually is, only that he sounded like he is.) Which means it felt like having my dad read a sex scene to me.
All in all, this wasn't a winner for me. But there is a heartfelt message here about grief and moving on. So, I think the book will find an audience. I'm afraid I just wasn't it.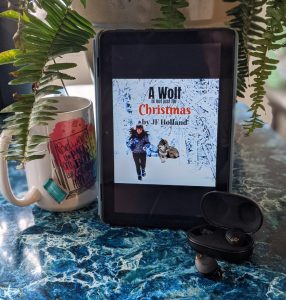 Come back tomorrow. I'll be reviewing A Christmas Gone Perfectly Wrong, by Cecilia Grant.