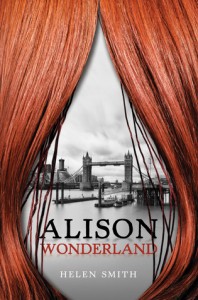 I was sent a copy of Alison Wonderland, by Helen Smith to read. I'm uncertain how to categorize this novel. Surreal or 'weird' fiction is probably closest to accurate. To start us off, here is the description:
After her husband leaves her for another woman, twentysomething Londoner Alison Temple impulsively applies for a job at the very P.I. firm she hired to trap her philandering ex. She hopes it will be the change of scene she so desperately needs to move on with her shattered life. At the all-female Fitzgerald's Bureau of Investigation, she spends her days tracking lost objects and her nights shadowing unfaithful husbands. But no matter what the case, none of her clients can compare to the fascinating characters in her personal life. There's her boss, the estimable and tidy Mrs. Fitzgerald; Taron, Alison's eccentric best friend, who claims her mother is a witch; Jeff, her love-struck, poetry-writing neighbour; and—last but not least—her psychic postman. Her relationships with them all become entangled when she joins Taron for a road trip to the seaside and stumbles into a misadventure of epic proportions! Clever, quirky, and infused with just a hint of magic, this humorous literary novel introduces a memorable heroine struggling with the everyday complexities of modern life.
_______________________________________________________
Alison Wonderland reminds you that you don't have to fall down a rabbit hole to encounter the strange and fantastical. It leaps off the page at you. Be warned, however, you can't sit back and lazily read it. You'd get lost for sure, because it does jump around. The reader leaps from the head of one character to the next with little warning of the impending change, but once you've learned that this could happen at any moment it becomes one more quirk of the book. Just as you can never guess what the characters might say next, you can't get too comfortable that you even know who might be saying it. It keeps you on your toes.
It may not be to everyone's taste. Alison and her cohort tend to treat everything from love poems, to mysterious Buddhist drummers, to blow-jobs with the same nonplus equanimity. Personally I thought this enhanced the novel in the same way that seeing someone tell a bad joke with a stoic, straight face is somehow funnier than when they're grinning. Others, however, may think it falls flat. This I'm afraid is probably just a matter of preference. You like it or you don't. I do.
Reading Alison Wonderland, I'm perhaps in a relatively unique position. I'm an American living in England. This is of note because there are some definite cultural references in the book that those outside of the UK would not get. Helen waxes lyrical about Lichorice Allsorts, Jammy Dodgers, and Wagon Wheels, for example. While not wholly unheard of in the States (I can't speak to the rest of the world) they aren't common enough to evoke familiarity as intended in the novel and I can see that this might leave people scratching their heads and wondering 'what was all that about?'
Overall, I enjoyed Alison Wonderland. I liked the quirky characters' ability to accept their comrades' foibles unquestioningly. I liked the seemingly random nature of the events and the obscured ending. I never could decide if it was happy or not. I did feel a little bit like I knew every detail of a week (or so) of Alison's life and very little about Alison, but knowing too much just might have ruined the magic.
_______________________________________________________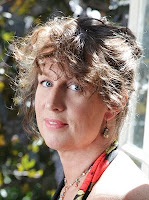 Today I am also lucky enough to have the author of Alison Wonderland, Helen Smith, cornered for questioning. She is a writer of some standing: a member of the Writers Guild of Great Britain and English PEN, as well as a recipient of an Arts Council of England Award. In addition to surrealist fiction she writes children's books, poetry, plays and screenplays.
S. Helen, Thank you so much for taking the time to speak to me today. In Alison Wonderland there is a fairly thin line between reality and fantasy. The main character, Alison, seems to accept this surrealist state with amazing equanimity. Do you believe in the power of thought to alter reality?
H. When I was a child I thought it must be possible, to some extent, to construct an alternate reality using only the power of the mind. Perhaps it was because I read so many books. I don't really believe it now, but I'm interested in people who try to defy reality by clinging onto their version of the truth.  The disconnect between real life and someone's inner life forms the basis of lots of good stories – whether you read them in the newspaper or in a book. 
S.  The characters are so distinct. Are any of them based on real people?
H. They're all fictional but I borrowed bits and pieces from people around me to help shape them. I'd say that Alison is a grumpier version of me. There are elements of me in Mrs. Fitzgerald, too. The only person who is completely made-up is Taron. I have never met anyone like her.
 S. I have my favorite character. Who is yours and why?
H. Oh! I wonder who your favourite character is. Alison, Mrs Fitzgerald and Jeff are my favourites, though I also like Flower (a minor character) because he's kind to his wife. I like them all, really, even the baddies. I can't imagine ever writing a book in which characters behave brutally towards each other.
S. Alison and Taron (especially Taron) seem at home in the London club scene. Without incriminating yourself, are any of their adventures based on personal experience?
H. Yes, most of the stories are based on things that have happened to me or that happened to friends of mine. I used to love going clubbing in the nineties when it was all peace and love, and dancing for eight hours a night with a bottle of water in your hand. Now I rarely go out. I like to stay home and read a book.
S. Would you consider Alison Wonderland to have a happy ending?
H. No. It has a downbeat ending. I like books with downbeat endings because I tend to think them over for a few days afterwards, worrying about how things could have been resolved better. With a happy ending, I close the book and think, 'That's OK, then!' and forget about it. Having said that, I have of course read some books where I'm just praying for everything to work out, and I'm so glad when it happens. 
S. It may be gauche to ask this, and I apologize, but looking at the reviews for Alison Wonderland one sees that they are spread from one star to five star plus exclamation points. It seems that those who like it, really like it, and those that don't, really don't. (I'm one of the former by the way.) As the author what do you make of this?
H. Thank you for saying you like the book. It's weird, isn't it? The first review I ever got for Alison Wonderland was in The Times and it was a knockout. Other favourable reviews followed in the national press. I was aware that it wouldn't be to everyone's taste but it wasn't until the book came out in America last year and did really well – it got to number one in the Kindle chart and stayed there for a few days – that the one star customer reviews came rolling in on Amazon and Goodreads. I have read books I don't like but I'd never consider leaving a nasty review for them on a public site, so sometimes I wonder, Who are these people? But you have to be sanguine about it: the one star reviews show that the publisher is doing their job and getting it into the hands of as many readers as possible, including some who aren't going to like it.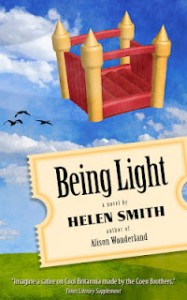 S. I see that Being Light has a new cover and is about to be reborn in paperback form. Would you like to tell us a little about it?
H. Thank you. The new cover's great, isn't it? Being Light is the follow-up toAlison Wonderland. It has some of the same characters in it – including both Alison and her boss, Mrs Fitzgerald – in minor roles.
 S. I see on your blog that you are working on a TV pilot and a new book. Are there any other projects (or one of these) that you would like to talk about?
 H. I can't say too much about the TV pilot. I'm working on a new mystery series set in London, featuring an amateur sleuth called Emily Castles. I'm really excited about it. I have written a couple of novellas featuring Emily and I'm nearly finished writing the first full-length novel. It will be light-hearted and fun, with no swearing or sex in it: a cozy mystery, as they're sometimes known. I like the idea of calling myself a crime writer – that sounds glamorous, doesn't it?
S. A little about you now, favorite genre to read and favorite genre to write.
 H. I like anything quirky and odd that's well-written, preferably with some humour in it. I also like biographies. And I like reading mysteries. I don't usually write in any particular genre but I have just started writing a mystery series set in London and it's great fun to write.
S. Favorite place you have ever visited and the one that you wish you could, but haven't made it to yet.
H. I have visited Japan, Peru, Ecuador, Hong Kong, Australia… the list goes on and on, and I have loved them all for different reasons. I always find it impossible to choose one favourite but Nepal was extraordinary. I spent a month there with three friends a few years ago, before the coup. It's a tiny country but you can go from mountains to tigers in a few miles: the variation in the scenery is breathtaking. I'd like to see the northern lights so perhaps I should say Alaska.
S. What does your writing day look like?
H. I never seem to do enough writing on my writing days. I get distracted by emails and the internet. But when it's going well I sit at my computer all day and crank the words out. When it's going really well, I get up to make a cup of tea and find myself dancing in my kitchen. I can't remember the last time I did that. Maybe I need to change my radio station.
 H. I'm so glad you liked the book. Thank you for reading it. It means a lot to me.
More about Helen and her books can be found here:
http://www.emperorsclothes.co.uk | Amazon.co.uk | Amazon.com
BTW: Jeff was my favorite.
Thank you Helen.