I accepted a review copy of No Land for Heroes, by Cal Black, through Reedsy. The book was later featured over on Sadie's Spotlight too. You can hop over there for an excerpt, author interview, play list, and chance to win a copy of your own.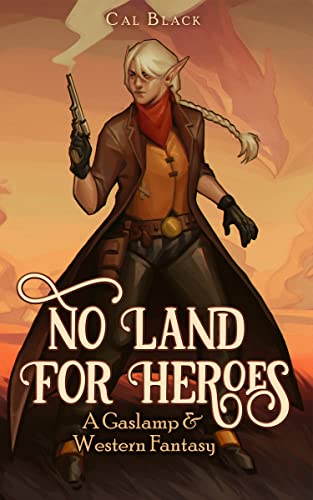 Mildred Berry is down to her last four bullets…
In a wild west where the only things more dangerous than outlaws are dragons, Deputy Berry is struggling to protect her town and keep her family fed. As a last resort, she robs a train for ammunition only to find that the cargo she needs so badly was owned by war hero Frederic Rousseau.
The same Frederic Rousseau whom she served during the Amelior Civil War. The same Frederic Rousseau she's been hiding from for the last five years.
Millie knows a secret that could ruin Rousseau's life, and he'll stop at nothing to keep her from telling the truth. With her violent past bearing down on the life she's built for herself, Millie has to decide how far she'll be willing to go to keep her town safe.



I realize that it's only May. So, it's far too early to be choosing my favorite book of 2022. But, honestly, when the time comes I won't be surprised if No Land for Heroes is on it. I loved this…and I'm saying that despite being someone who tends to be reserved in their praise. But I adored these characters…all of them.
Ok, yes, I disliked Gilbert in the beginning, before he shed some of his smarmy act. I felt sorry for the poor dragon, who was just following it's instincts. And I was a little uncomfortable with the way this seemed to re-imagine the aftermath of the American Civil War, without ever acknowledging it as the source material, thereby sidestepping the issue of enslaved peoples. I wasn't even sure if it the 'secessionists' were against freeing the victims of the African slave trade or if such peoples of color were entirely replaced by elves, orcs, and such in this re-imagined scenario. (Or if the war was about something else entirely, though I find this unlikely.) I suppose I could say the same about the way Millie's heritage was very clearly using some Indigenous American stereotypes.
But I felt like there was a lot of diversity and positive representation in the rest of the book (and it's outside my lane to truly make a judgement here) that I still greatly enjoyed the story.
I liked the way Black played with gender expectations. I laughed often. The plot rolls along at a good clip. The writing is snappy and fun to read. And the 'found family' is strong in this one. I whole-heartedly recommend this book and look forward to more.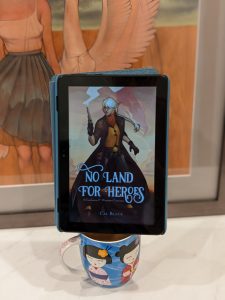 ---
Other Reviews: