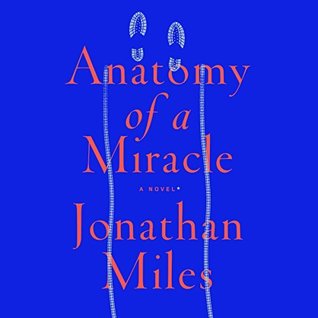 I initially won a paperback copy of Jonathan Miles' Anatomy of a Miracle through Goodreads. But lacking in time to sit and read lately, but interested none the less, I opted to borrow the audio version from the local library.
Description from Goodreads:
Rendered paraplegic after a traumatic event four years ago, Cameron Harris has been living his new existence alongside his sister, Tanya, in their battered Biloxi, Mississippi neighborhood where only half the houses made it through Katrina. One stiflingly hot August afternoon, as Cameron sits waiting for Tanya during their daily run to the Biz-E-Bee convenience store, he suddenly and inexplicably rises up and out of his wheelchair.
In the aftermath of this "miracle," Cameron finds himself a celebrity at the center of a contentious debate about what's taken place. And when scientists, journalists, and a Vatican investigator start digging, Cameron's deepest secrets–the key to his injury, to his identity, and, in some eyes, to the nature of his recovery–become increasingly endangered. Was Cameron's recovery a genuine miracle, or a medical breakthrough? And, finding himself transformed into a symbol, how can he hope to retain his humanity?
Review:
As I said above, I won this book and I'm really glad I did, because I almost certainly wouldn't have picked it up on my own. I'll grant that it's a little overly long (though I think the fact that I listened to it made this a little more bearable) and slow, but the subtitles of the story are well worth the read. This book hands you nothing, it lays things on the table and invites you to consider them. I appreciated that a lot.
Were there times I wanted Cameron to open up and speak more, so that I could understand him better, for things to be a bit more obvious? Yes! But that wouldn't have fit his character and honestly, this isn't a story about Cameron. It's the story of his miracle, if a miracle it be (this being a crucial question). And if the author had taken the easy route of allowing Cameron to hand the reader a pat answer, it wouldn't be anywhere as good a book.
I did spend a lot of time afraid it was going to go the way of so much literary fiction and end in unbearable tragedy, but it didn't. And the huge sigh of relief at the end was worth the anxiety.
I don't think this will be a book everyone will enjoy. But I really did. And Edoardo Ballerini's narration was no small part of this. He does an excellent job.