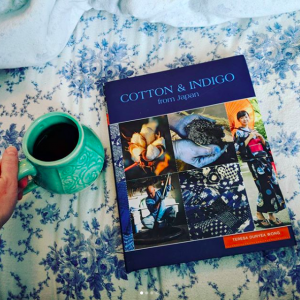 I received a copy of Cotton & Indigo from Japan
, by Teresa Duryea Wong for review.
Description from Goodreads:
More than 300 colorful photos and behind-the-scenes details reveal the fascinating story of Japan's cotton and indigo, and their enormous contribution to fiber arts worldwide. Learn how Japan and its top fabric designers, quilters, scientists, and artists combinetradition and high tech to weave the thread, fabrics, and stunningdesigns that are so coveted in today's fiber art world. Take a tour of Japan's elite textile printing mills to understand why Japan is considered the world's finest producer of quilting cotton. Learn where all this cotton comes from, and its close connection to another prized plant, indigo. Dozens of beautiful fabric designs and quilts by Shizuko Kuroha, Keiko Goke, Yoshiko Jinzenji, Yoko Saito, and others are featured, as well as cotton and indigo folk textiles through the ages. This journey gives a deeper understanding of the connection between contemporary textile art and Japan's cotton, indigo, and traditions.
Review:
I initially wrote a review that said, "Very cool book with gorgeous pictures and a lot of interesting history. This is worth picking up if the subject interests you. I appreciate it as both an informative book and simply as a pretty coffee table book." But last night I got the chance to go through the book with my aunt, who is a big quilter and worked many years in a fabric shop, largely for the love of it. Hearing her ooh-and ahh, lovingly touch some of the photos, and tell me, "This is a great book, really thorough about the terminology and regionality." confirmed what I already knew. This is a book worth having. It has two Forsythe seals of approval.