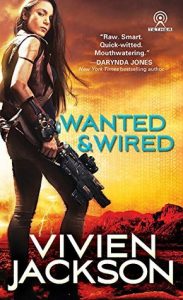 I picked up a copy of Vivien Jackson's Wanted and Wired
from Amazon, when it was free.
Description from Goodreads:
Rogue scientist • technologically enhanced • deliciously attractive
Heron Farad should be dead. But technology has made him the man he is today. Now he heads a crew of uniquely skilled outsiders who fight to salvage what's left of humanity: art, artifacts, books, ideas-sometimes even people. People like Mari Vallejo.
Gun for hire • Texan rebel • always hits her mark
Mari has been lusting after her mysterious handler for months. But when a by-the-book hit goes horribly sideways, she and Heron land on the universal most wanted list. Someone set them up. Desperate and on the run, they must trust each other to survive, while hiding devastating secrets. As their explosive chemistry heats up, it's the perfect storm…
Review:
I quite enjoyed this. There were several points I especially liked and a few that irked me, but the average definitely fell on the positive side.
The things I enjoyed were the snark, the high quality of writing, the world, the woman with sexual agency, the fact that there were incidentally gay characters and that the main characters were other than white.
On the negative side was the rape-as-backstory, the fact that the sexual agency I appreciated eventually became distracting as Heron and Mari just never let up.
All in all, I can't wait for more of Jackson's Tether series.